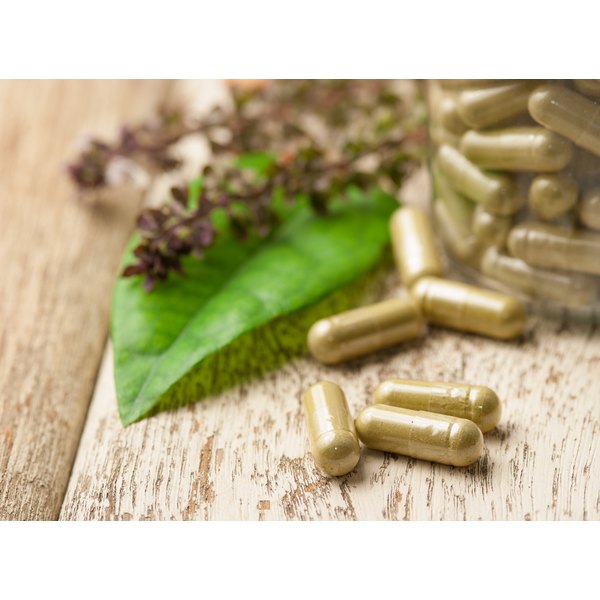 Many Americans are starting to question the ingredients in over-the-counter weight loss and dietary supplements. Relacore and Relacore Extra are advertised as stress reducers and mood elevators that makers say reduce the correlation between excess belly fat and stress, tension and anxiety. It contains both vitamins and herbal components.
How It Works
Relacore is advertised as a weight loss supplement that is supposed to reduce the correlation between stress, cortisol and body fat accumulation. It claims to reduce weight gain and fat accumulations in the belly area due to stress. Because no studies associate diet or weight loss supplements with spot-reducing body fat, Relacore and Relacore Extra are advertised to contain ingredients that work to manage stress rather than burn fat.
Ingredients and Supplement Facts
One capsule of Relacore contains 333 mg of vitamin C, 21.5 mg of calcium, 5 mg of thiamin, 7 mg of riboflavin, 17 mg of vitamin B-6, 3.5 mcg of vitamin B-12, 150 mcg of biotin, 7.8 mg of pantothenic acid, 67 mg of magnesium. It also contains a 266 mg proprietary blend of magnolia bark, passion flower, scutellaria root, niacinamide, panax ginseng root, pinellia tuber, poria fungus, jujuba fruit, perilla leaf and phosphotidylserine.
Magnolia Bark
Relacore contains magnolia bark, which can be used to treat low energy levels. Magnolia bark is often associated with anti-stress- or anti-anxiety treatments as well. Researchers studying overweight subjects in stressful situations, found that those taking magnolia bark over a six-week period gained no weight while the placebo group gained significant amounts of weight during that time period.
Precautions
Though many users report having more energy, less anxiety, weight control and occasional weight loss, users also report a number of negative side effects as well. Dizziness, agitation, difficulty sleeping, feeling light-headed, nausea, headaches and increased heart rate were all reported possible side effects of taking Relcore and Relacore Extra.