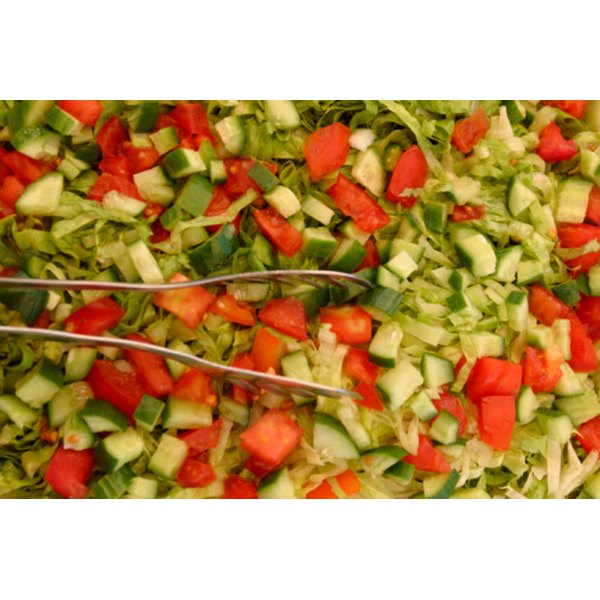 Celebrity cook Rachael Ray does not use a scale to track her dieting results. In fact, she favors a "no-diet" approach to eating that focuses on establishing healthy habits in lieu of counting calories or carbs. The rules for the diet are straightforward, making it easy to get started right away. Always consult a health care professional before trying any new diet.
Common Sense Advice
This diet calls for using a healthy mindset when it comes to choosing food, notes DietsInReview.com. For example drink plenty of water instead of sipping soda, minimize your fast food intake and add lots of veggies and fruits to your daily diet. Eating lots of fruits and veggies can help you manage your weight, notes the Centers for Disease Control and Prevention. Produce has high water and fiber contents, making it low in calories but high in volume compared to other foods, which helps you feel full and keep your calorie intake down. Subbing them for higher-calorie foods is a good way to cut back on calories. Fresh produce is best, according to the CDC.
MUFAs
Ray favors the monounsaturated fatty acids, or MUFAS, featured in the Flat Belly Diet, especially extra virgin olive oil. MUFAs are the key to the Flat Belly plan. In addition to olive oil, examples include canola oil, dark chocolate, peanut butter, seeds, avocados and nuts. Choosing MUFAs over other fats helps prevent visceral fat accumulation, meaning the deep and unhealthy type of belly fat, according to "Flat Belly Diet! Pocket Guide," by Liz Vaccariello.
Hunger
Let your hunger be the guide on this eating plan, so if you are not hungry, don't eat. Understanding true hunger versus food cravings can be the key to losing weight, according to the May 2010 RachaelRayShow.com article, "Human Lab: Appetite Suppressants." Consuming proteins, carbs and fats with each meal can help you curb your cravings because when you miss one of these macronutrients chances are you'll wind up craving a food that has it. Also pay attention to your emotions and distract yourself for 30 minutes, which is about the time frame it takes for a non-hunger urge to eat, Dr. Keri Peterson notes in the article. Ray also advises you not to skip meals.
Other Advice
Ray adheres to the standard dieting advice of moving more to burn calories, and lists moderate exercise as another key to losing weight. Learn from past dieting mistakes and avoid them, completes Ray's advice.