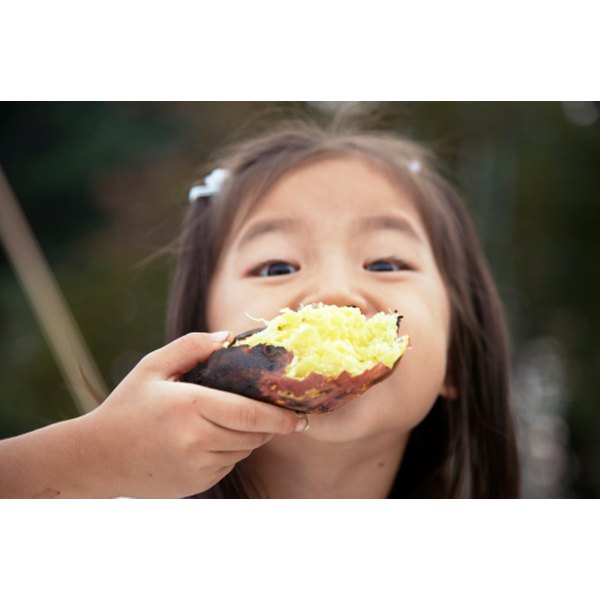 Vitamin A occurs in high concentrations in fruits and vegetables such as carrots, kale, pumpkins, sweet potatoes, tomatoes, collard greens, spinach, apricots, broccoli and cantaloupe. These foods are classed as provitamin A carotenoids, and research suggests they may have some benefit for diabetics. Speak to your doctor or health-care provider about vitamin A rich carotenoids if you have diabetes or are at risk for developing the condition.
Carotenoids
Research demonstrates a significant association between vitamin A-rich carotenoids and diabetes status. According to a 2005 study conducted by University of Queensland researchers in Australia, higher blood glucose levels, as well as higher fasting levels of insulin, were observed in study participants with lower levels of carotenoids. Carotenoid levels also decreased as the severity of glucose intolerance increased. These findings suggest that vitamin A might help diabetics to manage their condition.
Diabetic Retinopathy
Diabetic retinopathy is a common long-term complication of diabetes characterized by damage to the blood vessels that feed the retina; it may lead to retinal detachment and blindness. Vitamin A rich carotenoids may shrink a diabetic's risk of developing diabetic retinopathy. According to a 2009 study conducted by Australian researchers and published in the "British Journal of Nutrition," Type 2 diabetics who had lower levels of the carotenoids lycopene and lutein and zeaxanthin had corresponding higher levels of retinopathy.
Preeclampsia
Pre-eclampsia occurs after the 20th week of pregnancy and causes high blood pressure and protein in the urine; the condition can lead to serious complications in the mother such as stroke and liver rupture. Vitamin A rich carotenoids may reduce the onset of pre-eclampsia in pregnant Type 1 diabetics, according to a 2011 study. According to lead author Madona Azar, M.D. of the Harold Hamm Oklahoma Diabetes Center, low levels of alpha and beta carotene in Type 1 diabetic pregnant women correlated with pre-eclampsia onset.
Warning
Too much vitamin A can induce toxic symptoms. These include blurry vision, trouble with coordination, headache, vomiting, dizziness and nausea. High levels of vitamin A stored in the body can lead to birth defects, liver problems, osteoporosis and abnormalities of the central nervous system. Seek medical clearance regarding safe levels of vitamin A before you begin supplementing it in your diet if you are diabetic.