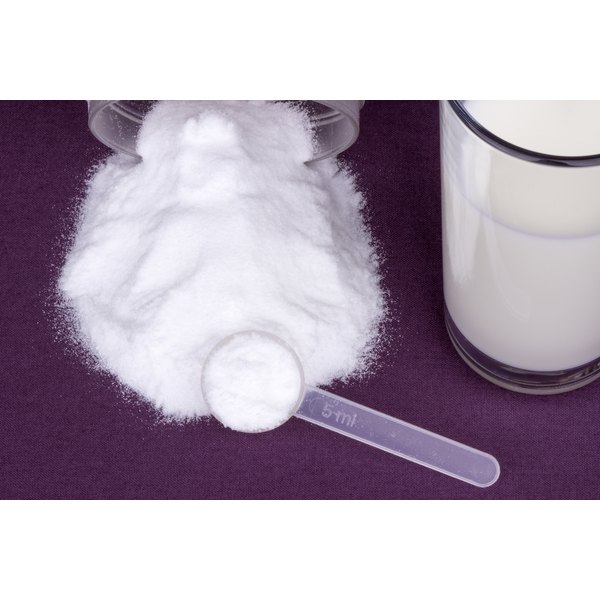 Creatine is a naturally occuring chemical within your body that is responsible for making the energy necessary for your muscles to work. Foods such as meat and fish contain creatine; it is also available as a supplement. Creatine is widely used by athletes in many sports because of the belief it will increase their muscle mass and help their performance. According to Mayo Clinic, the consensus of evidence suggests that creatine does aid in developing muscle mass and strength. However, the results from research have been mixed as to creatine's effectiveness at boosting athletic performance. It is important to consult with your health care provider before taking any type of supplements.
Creatine Supplements
Creatine is available in liquid or granular form from many manufacturers. It can also be administered intravenously; however, injections should be given under strict medical supervision. Carbohydrate solutions increase the uptake of creatine in your muscles so they should be included with each dose. Many creatine drinks contain carbohydrates, and the granular form can be mixed with fruit juice. Creatine causes your muscles to retain water so it is important to stay properly hydrated while taking creatine.
Dosage
Creatine is administered in two phases: a loading phase and a maintenance phase. According to Mayo Clinic, if your goal is to increase your strength and athletic performance, you should take 20 grams of creatine daily during the loading phase. The loading phase should be four to seven days. After the loading phase, you should consume two to 5 grams of creatine daily for maintenance. Consult with your health care provider regarding how much creatine is appropriate for you, based on your individual needs.
Young Athletes
Creatine is not recommended for individuals under the age of 18. However, according to research conducted at Cornell Medical College in New York, creatine use exists at all grade levels, starting in middle school. It is widely used by athletes in sports such as wrestling, football, hockey, and lacrosse. The National Collegiate Athletic Association (NCAA) banned high schools and colleges from distributing creatine to athletes in 2000.
Effectiveness
Several factors influence the effectiveness of creatine. Creatine is more effective for younger people than it is for people over 60. It is also more effective for improving your performance if you engage in high intensity, short-duration exercise, such as running sprints. Creatine is not effective in enhancing your performance during aerobic exercise.
Warnings
Supplements are not regulated by the food and Drug Administration (FDA). Consequently, there are no guarantees as to the authenticity of retail creatine supplements. Your health care provider may be able to recommend a reputable manufacturer of creatine supplements. Possible side effects of taking creatine supplements are nausea, cramping and diarrhea.