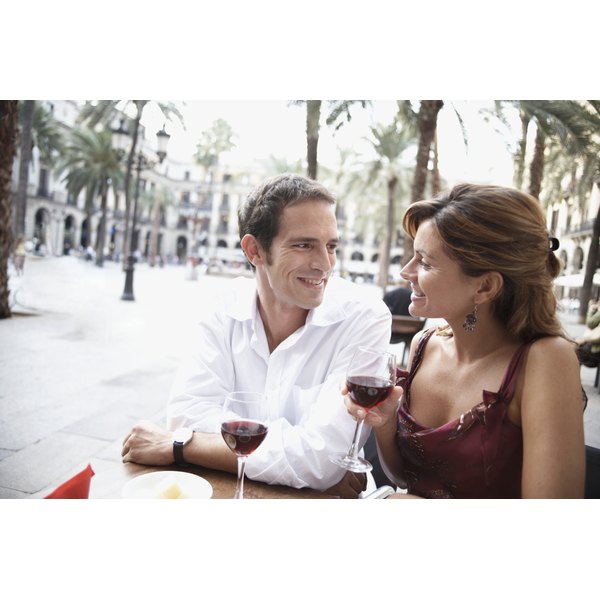 Sulfur dioxide, or sulfites, is a preservative that's widely used in wine. In fact, sulfites have been used in the winemaking process for centuries. Sulfites can bring about asthma symptoms if you have underlying asthma. More rarely they may produce allergic reactions. Wheezing is the top reaction to sulfites, notes the Australian Society of Clinical Immunology and Allergy.
Common Symptoms
In addition to wheezing, common adverse reactions to sulfites include coughing and chest tightness. Such symptoms affect an estimated 5 to 10 percent of people with asthma. Your chances of experiencing symptoms are greater if your asthma is poorly controlled.
Allergy and Severe Symptoms
An adverse reaction to sulfites may occur even if you do not have a history of asthma, though this is unusual. Your reaction may be mild, but allergic reactions also can also be life-threatening. Life-threatening anaphylaxis due to sulfites, however, is rare. Anaphylaxis symptoms include a fast heartbeat, flushing, hives, diarrhea, dizziness, stomach upset, difficulty swallowing, tingling or collapse along with wheezing.
Medical Diagnosis
Confirm sulfite sensitivity with your doctor via a challenge. In this procedure, sulfite is administered to you in capsules or solutions of increasing concentrations. If your challenge confirms sulfite sensitivity, your best treatment option is avoiding sulfites, according to the Cleveland Clinic in Ohio.
Wine Labeling Guide
The amount of sulfites allowed in wine is limited in the United States. Wines are not allowed to contain more than 350 mg sulfites per liter. If a wine has more than 10 mg sulfites per liter, it is required to have a "contains sulfites" warning label on it. Wines that have less than 1 mg sulfites per liter are permitted to carry a label that reads "no sulfites." In the United States, wines that are labeled "organic" or "100 percent organic" do not have added sulfites. However, sulfites occur naturally in wine so even if none are added, they are present. That means there truly is no such thing as a sulfite-free wine, notes "Wine at Your Fingertips," author Jennifer D. Frank.