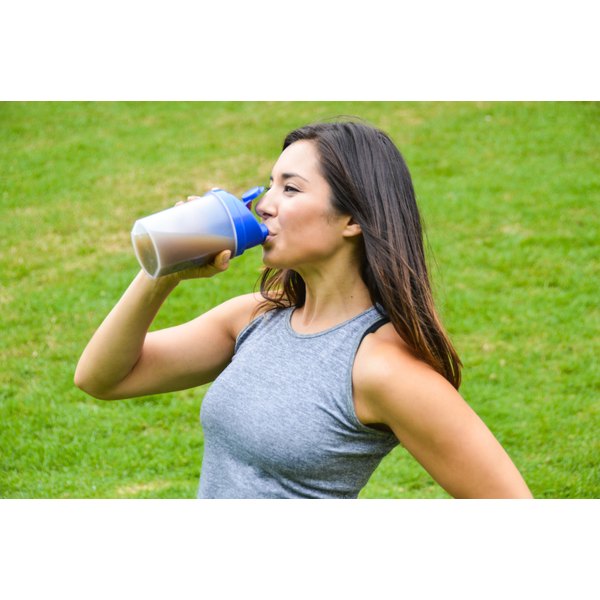 Protein does more than build your muscles. Research indicates that this nutrient may provide a number of benefits. The Harvard School of Public Health notes that high-protein diets may help you stave off cardiovascular disease and may aid in weight loss. As a result, powders such as Miracle Whey and Shakeology may be healthy additions to your diet. However, not all supplements are the same, so compare product labels closely and consult a doctor prior to use.
Suggested Use
Both Shakeology and Miracle Whey can be mixed with water, milk or another beverage of your choice to create a protein shake. Shakeology's manufacturer recommends consuming just one serving of Shakeology -- that is, 48 grams in 8 ounces of liquid -- each day as a snack or meal replacement. The manufacturer of Miracle Whey suggests consuming a shake -- 40 grams in 8 ounces of liquid -- two to three times daily.
Available Flavors
Both Miracle Whey and Shakeology are available in a number of different flavors. Shakeology is available in chocolate and Greenberry, while Miracle Whey is available in six flavors, chocolate, vanilla, banana, blueberry, peanut butter and strawberry.
Calorie Content
Shakeology and Miracle Whey have similar calorie contents, although Miracle Whey is slightly higher in calories, with 180, compared with 150 in Shakeology. The small difference in calories is unlikely to affect your goals, as you could burn 30 calories through ten minutes of weightlifting.
Fat Content
Shakeology is slightly lower in fat, with 1 gram compared with 2 grams in Miracle Whey. Shakeology contains no saturated fat, while Miracle Whey contains 1 gram of saturated fat. Miracle Whey is higher in fat due to the inclusion of medium-chain triglycerides, a type of fat purported to aid in weight management. However, research from the April 1996 issue of the "Journal of Lipid Research" suggests that you would need to consume half of your calories from medium-chain triglycerides for the fats to aid in weight loss.
Protein Content and Needs
Miracle Whey provides 19 grams per serving, while Shakeology provide 18 grams of protein per serving. While protein supplementation can support an active lifestyle, research from the December 2010 edition of the "International Journal of Sport Nutrition and Exercise Metabolism" suggests you need to consume at least 20 grams of protein following exercise for optimal recovery.
Carbohydrate Content
Shakeology is lower in carbohydrates, with 17 grams per serving, compared with 19 grams in Miracle Whey. Miracle Whey is lower in sugar, with 5 grams, compared with 9 grams in Shakeology. Both shakes provide 3 grams of dietary fiber.
Vitamins and Minerals
Shakeology may be more suitable as a meal replacement because it contains 23 vitamins and minerals, while Miracle Whey provides 3. Shakeology provides an entire daily serving of vitamin A, B-1, B-6, C and manganese, among other vitamins. Miracle Whey is highest in calcium, with 8 percent of the daily suggested intake.