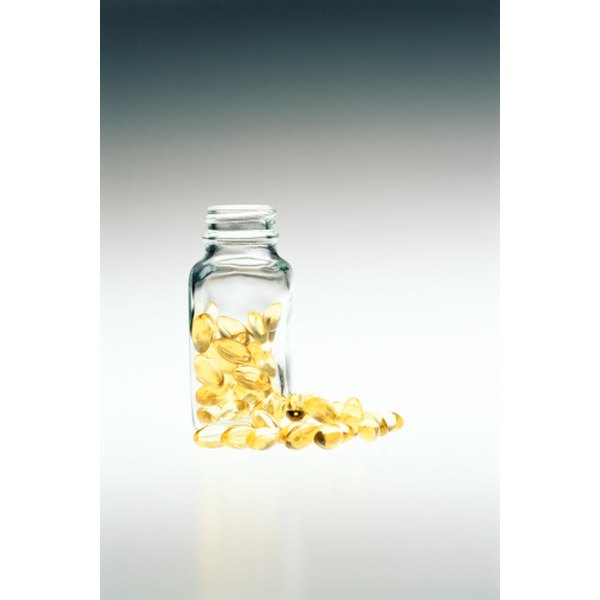 Vitamin E oil is a fat-soluble vitamin that is vital in order for the human body to work efficiently. Vitamin E contains different properties that benefit several of the processes vital to good health, such as helping your skin heal more quickly and to be free of infection and disease. Check with your doctor before using vitamin E supplements, though, to ensure safe and proper usage.
Properties
According to the Linus Pauling Institute at Oregon State University, vitamin E oil comprises an entire spectrum of all eight kinds of antioxidants, which include four types of tocopherols that remain in the body. The tocopherols, which are synthesized plant antioxidants, flow through the bloodstream to bring the antioxidant properties to all the body's organs and tissues. The four types of tocopherols include alpha, beta, gamma and delta. Alpha tocopherols help improve the tone and elasticity of the blood vessels. Although beta tocopherols do not exhibit any health benefits, gamma and delta tocopherols may help reduce the risk of diabetes.
Benefits
When your body receives a sufficient amount of vitamin E, the powerful antioxidant cocktail provides the skin with the hydration and nutrients it needs in order to function properly. Proper vitamin E consumption is associated with increased healing in the skin because the antioxidants in vitamin E oil fight off free radicals, which are atoms that encourage oxidation of cell membranes in the body and can exacerbate skin infections and diseases.
Methods
You can take vitamin E oil in capsule form, apply it directly to the skin or add it to a smoothie. Do not heat vitamin E oil, as this could cause the antioxidant properties to be lost or weakened. The recommended therapeutic dosage of vitamin E oil for people ages 18 years and older is 200 international units per day. Contact a health care practitioner familiar with vitamin E's use for dosing guidelines for your individual needs.
Warnings
Never begin taking a vitamin supplement without checking with your health care provider. Excessive use of many types of vitamins, including vitamin E, can be dangerous and can cause unwanted side effects or damage to your body. Discontinue use of vitamin E oil if you notice any swelling, redness or itching on the skin.