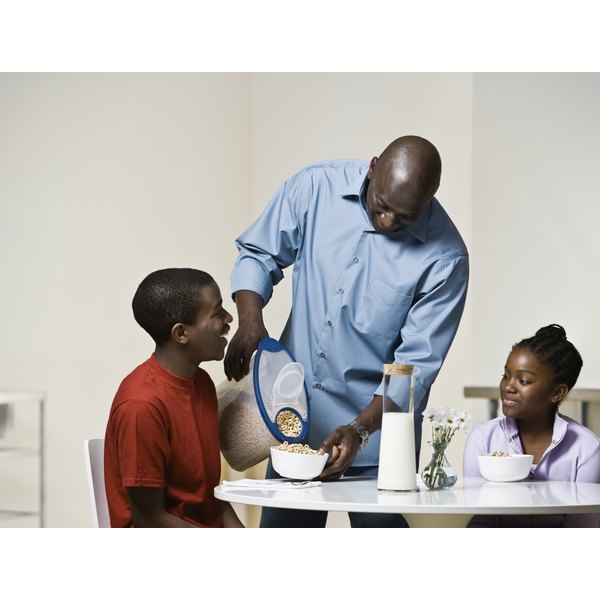 General Mills manufactures a wide array of breakfast foods, including several cereals that are gluten-free. The company makes gluten-free Corn and Rice Chex cereals, which may be included in the diets of those with celiac disease or gluten sensitivities. Gluten refers to the proteins found in certain grains, including wheat, malt, barley, spelt and rye, and those with celiac disease react negatively to foods containing it.
Celiac Disease
Celiac disease is an autoimmune disorder that does not allow for proper digestion of wheat or gluten-based foods. Some individuals who do not appear to have celiac disease are also unable to tolerate gluten. Initial symptoms may include vomiting, weight loss, and bouts of diarrhea and constipation. Patients diagnosed with celiac must avoid gluten-based foods, such as breads, cereals, beer, sauces such as soy sauce and candy made with flour, such as red licorice. Celiac patients are so sensitive to gluten that they must be aware of cross-contamination of foods. Most celiac patients are able to tolerate amaranth, rice, corn, millet, quinoa and sorghum. Many companies are developing foods with these ingredients, such as sorghum-based beer and corn or rice-based cereals.
Rice
General Mills' Rice Chex and Chocolate Chex cereals are based on rice and gluten-free. Rice as an ingredient is generally well tolerated by those with celiac disease. Patients with a gluten intolerance still need a balance of micronutrients, and Rice Chex cereals provides vitamin A, D, E and C, and six B-vitamins, plus iron, zinc and calcium.
Corn
Corn Chex and Cinnamon Chex are also gluten-free. Corn Chex is a corn-based cold cereal. Cinnamon Chex contains rice and corn, plus cinnamon, peanut flour and soy lecithin. Honey Nut Chex is a corn-based product with rice bran oil, honey and natural almond oil. These ingredients tend to be tolerated by those with gluten sensitivities. All three of these cereals contain a blend of vitamins and minerals that come from gluten-free sources.
Instant Oatmeal and Granola
While oatmeal itself does not contain gluten, it is common for oats to come in contact with other gluten products during processing. Those following a gluten-free diet should look for oats that specifically say "gluten-free." General Mills manufactures gluten-free instant oatmeal in two flavors: Apple Cinnamon with Flax and Banana Maple with Flax. Another breakfast option is General Mills' Apple Almond Honey Granola, which does not contain gluten.