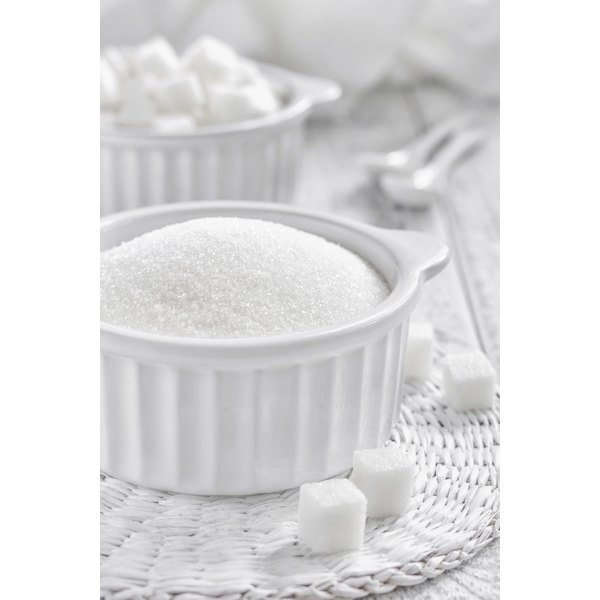 Truvia is one of a handful of sweeteners derived from stevia. Given stevia's "generally recognized as safe" status with the U.S. Food and Drug Administration, along with years of worldwide research and testing, parents can feel confident using Truvia in foods and beverages your children consume. A group of food technologists publishing in the "International Journal of Food Sciences and Nutrition" go a step further, saying children might actually benefit from stevia. However, no advice about food ingredients can supersede the counsel of your children's health care provider, however. Be sure to consult with a pediatrician on this issue before beginning to use Truvia in large amounts.
The Basics
Truvia is a no-calorie sweetener made from the leaves of the stevia rebaudiana plant, which comes from a family of perennial shrubs native to Central and South America. Stevia has been used for centuries as a sweetener -- and in some cases, for medicinal purposes. Truvia is produced by food manufacturer Cargill. The sweetener itself is available in most supermarkets and is increasingly being used to sweeten products such as juices, flavored water and yogurts. According to the Institute of Food Technologists, the market for stevia products is estimated to reach close to $2 billion by year-end 2011.
History of Stevia in U.S.
Although it has been used in many countries for many years, stevia's ride to acceptance in the U.S. hasn't been smooth. In 1991, the FDA levied a controversial "unsafe food additive" label on stevia and began restricting import. However, in 1994, the agency began allowing stevia to be used as a dietary supplement, which continued until December 2008, when it granted the "generally recognized as safe," or GRAS, status. This change followed a 2006 study by the World Health Organization that deemed the sweetener safe.
Truvia and Children
On the official Truvia website, the company posts the following response to a question about whether the sweetener is safe for children: "Published safety studies have demonstrated that rebiana [a form of the sweetener] had no effects on general health, reproduction, fertility, growth or development. Rebiana is generally recognized as safe for use in foods and beverages for use as a general purpose sweetener. This regulatory designation means that rebiana is generally recognized as safe for use in foods that are commonly consumed by children, such as yogurts, cereals and beverages."
Research
Stevia's calorie-free composition is a major part of its appeal to people who need to reduce their sugar and calorie intake. An April 2000 article published in the "Nutrition Action Health Letter" is one of few references to concerns about stevia and children. It was published before stevia received its GRAS status. In it, a toxicologist from the University of Arizona said very large amounts of stevia can interfere with the absorption of carbohydrates and disrupt the process of converting food into energy. The toxicologist said this was a concern for children, but few research studies repeat this concern. In fact, a group of Indian researchers conducting a meta-analysis of all of the literature published on stevia safety say children can benefit from its use. By using a no-calorie sweetener, children can still enjoy occasional treats without the extra calories that contribute to overweight, obesity and diabetes. In addition, it's been deemed safe for use in toothpaste. The authors conclude that the bulk of studies on stevia conclude that stevia leaves and their extracts are safe. It might have additional benefits as an antioxidant, anti-bacterial and anti-fungal agent; blood pressure reliever; and blood sugar stabilizer.