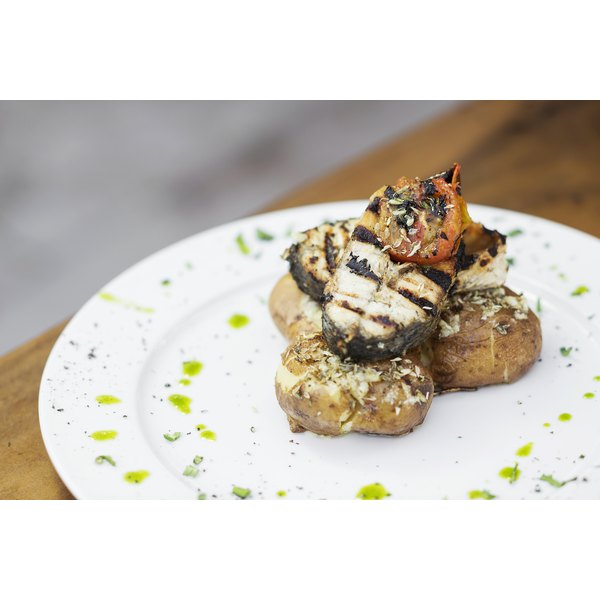 The U.S. Department of Agriculture recommends eating seafood at least twice a week to get the heart-health benefits provided by this nutritious protein source. Fish supply significant amounts of essential omega-3 fats, many vitamins and minerals, such as vitamins A and D, potassium, selenium and phosphorus. Making fish a regular part of a low-calorie diet may also help you improve your weight-loss results.
Fish Compared to Meat and Poultry
Fish tends to be lower in fat and calories than meat and poultry, and even the fattier fish usually have less than 200 calories per 3-ounce serving -- making it a better protein choice during weight loss. A serving of fish provides about a third of your daily protein needs, and the protein is more easily digested than that found in meat and poultry because there isn't as much connective tissue.
Fish and Weight Loss
A study published in the "International Journal of Obesity" in 2007 found that eating three 5.3-ounce servings of either lean or fatty fish per week for four weeks as part of a low-calorie diet resulted in approximately 2.2 pounds more weight lost than following a similar diet that didn't include fish. Another study, published in "Nutrition, Metabolism and Cardiovascular Diseases" in December 2009 found that eating five 5.3-ounce servings of cod per week as part of a low-calorie diet for eight weeks resulted in an extra 3.8 pounds of weight loss compared to a diet with the same amount of calories but no fish. The group that ate five servings of cod a week also had more weight loss than the group that had only three servings per week.
Potential Mechanisms
Protein helps increase satiety, according to a May 2008 article published in "The American Journal of Clinical Nutrition," so including more high-protein, low-calorie foods in your diet may help with weight loss. Omega-3 fats may also play a role. A study published in "Physiological Research" in 2006 found that adding omega-3 fats to a very-low-calorie diet increased weight loss. Diets high in omega-3 fats also helped increase satiety in a study published in "Appetite" in November 2008.
Mercury Considerations
When adding more seafood to your diet, include mainly those types that are lowest in mercury to avoid potential adverse effects associated with this contaminant. Good options include salmon, herring, mackerel, shrimp, scallops, anchovies, crab, sardines, whitefish, catfish, tilapia, oysters, clams, sole, flounder and haddock. Avoid those types of seafood highest in mercury, such as shark, swordfish, king mackerel, bigeye and ahi tuna, tilefish, marlin and orange roughy.