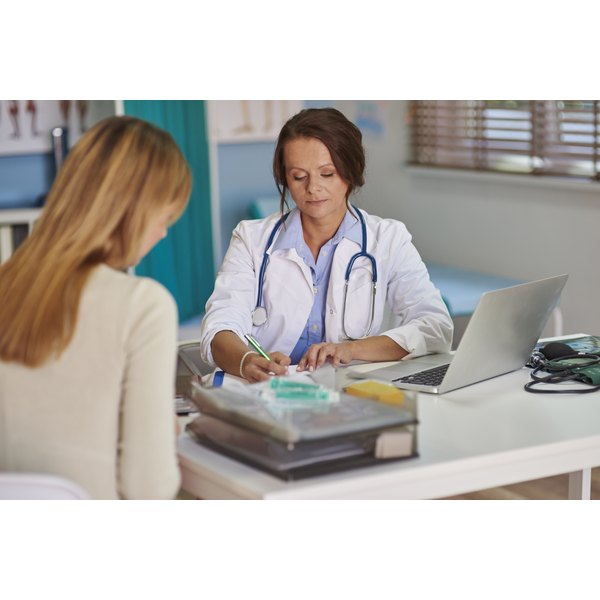 Optivite PMT, produced through the Optimox Corporation, is a vitamin and mineral supplement designed for women experiencing premenstrual complications, especially a condition coined Premenstrual Tension Syndrome, or PMTS. These supplements include 300 mg of vitamin B6, which is 15,000 percent of the recommended daily value at the maximum dose of six tablets per day. Research concerning the results of B6 on premenstrual conditions is conflicting and a physician should be consulted before taking these supplements.
Vitamin Content
A single Optivite PMT tablet contains three fat-soluble vitamins, A, D and E, plus 10 water-soluble vitamins, vitamin C and nine B-vitamins. Vitamin A is provided as retinyl palmitate and beta carotene in amounts of 42 percent of the daily value. Vitamin D is found at 4 percent and vitamin E at 56 percent of the daily value. Vitamin C accounts for approximately 417 percent of the daily value. The daily value of B-vitamins includes approximately 278 percent thiamin, 245 percent riboflavin, 21 percent niacin, 2,500 percent B6, 8 percent folic acid, 167 percent B12, 3 percent biotin and 42 percent pantothenic acid. Inositol, unofficially considered a B vitamin with an unestablished daily value, contributes 4 mg. These amounts would need to be multiplied by the actual number of tablets taken per day as prescribed by a physician.
Mineral Content
One Optivite PMT tablet contains several minerals including approximately 14 percent iron, 8 percent iodine, 11 percent magnesium, 28 percent zinc, 24 percent selenium, 83 percent manganese, 14 percent chromium and 0.2 percent potassium. Potassium is an abundant mineral found in most foods, particularly bananas, dried beans, lean meat and dairy products. There is only 2 percent calcium per tablet, so calcium should be obtained through calcium-rich food sources such as milk, yogurt and fortified cereals. Taking more than one tablet per day would increase these numbers by the amount of tablets taken.
Other Ingredients
Each Optivite PMT tablet contains 42 mg of citrus bioflavonoids and 4 mg of Rutin, also considered a flavonoid. Flavonoids are thought to contain antioxidant properties. There are also 17 mg betaine HCL and 16 mg pancreatin 4X, both thought to aid in digestion. Optivite also contains an ingredient thought to encourage skin integrity; p-Aminobenzoic Acid or PABA at 4 mg per tablet. Choline, thought to aid in brain function, is found at 52 mg per tablet. Keep in mind that results of these claims are conflicting.
Inactive Ingredients
Optivite PMT supplements contain other ingredients used as preservatives, anti-caking agents and emulsifiers such as stearic acid, carnuba wax, hydroxypropyl methylcellulose, silica, magnesium stearate, pharmaceutical glaze and titanium dioxide. Optivite also contains natural flavors coming from sources that are not listed.