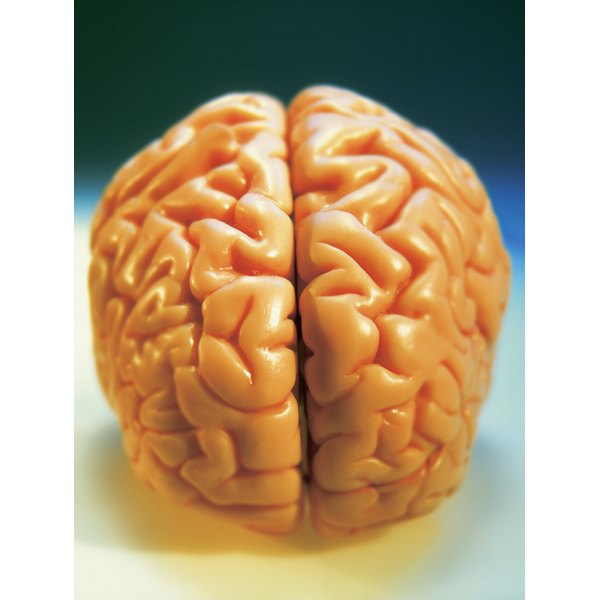 Taurine is an amino acid that your body produces from two other amino acids: methione and cysteine. A variety of important health processes rely on taurine, including cholesterol and blood sugar control and nervous system regulation. Taurine is present in high concentrations in the brain. Research results for a potential role for taurine in the management of depression remain divided.
Taurine vs. Beta-Alanine
Taurine showed anti-depressant activity while beta-alanine — an amino acid that inhibits taurine transport — showed anti-anxiety activity in a study conducted by the Laboratory of Regulation in Metabolism and Behavior, Graduate School of Bioresource and Bioenvironmental Sciences, Kyushu University, Japan. In the study on laboratory animals, diets supplemented with 22.5 mmol per kg of food resulted in significantly more time spent actively moving about and less time spent immobile. Animals fed the beta-alanine-supplemented diets spent more time in open areas and less time seeking protected closed-off areas in an experimental maze setup, an indication of lower levels of anxiety. The study was published in the July 2010 issue of the journal "Amino Acids."
Ineffective
Taurine did not show anti-depression activity in laboratory animals in a study researchers conducted at the University of Minnesota, College of Pharmacy, Duluth, and published in the 2008 issue of the "Israeli Journal of Psychiatry and Related Sciences." Alterations in taurine levels have been associated with certain psychiatric disorders and certain anti-depressant drugs affect taurine levels. However, supplementation with the amino acid did not measurably reduce depression-like behavior at the levels tested in this study. The researchers urged caution regarding manufacturer's claims for taurine as a stimulant.
Questionable Association
A study conducted by the Department of Food and Nutrition, Inha University, Korea, found no difference in taurine intake between depressed and non-depressed college students. Researchers evaluated the participants' diets over a three-day period, including two weekdays and one weekend day. Results showed average daily dietary taurine intake of 89.1 mg in the depressed group and 88.0 mg in the control group. However, depressed participants had significantly lower intakes of vitamin A, beta-carotene, vitamin C, folic acid and fiber than non-depressed controls. Scores on eating habits, such as regularity of mealtimes, diversity of foods consumed and sufficient protein consumption were also lower in the depressed group. The study was published in the August 2010 issue of the "Journal of Biomedical Science."
Depression and Inflammation
Patients with major depression tend to have high taurine levels in their lymphocytes, according to a study conducted at the Laboratorio de Neuroquímica, Centro de Biofísica y Bioquímica, Instituto Venezolano de Investigaciones Cientificas, Caracas, Venezuela, and published in the 2009 issue of the journal "Advances in Experimental Medicine and Biology." The researchers noted that taurine acts as an antioxidant and anti-inflammatory agent in lymphocytes. When patients in the study were treated with an anti-depression medication, the taurine levels in their lymphocytes decreased, implying potential anti-inflammatory effects of the anti-depressant drug used in the study. Inflammation has been found to be a causative factor in the development of depression, according to one study at the Department of Psychiatry, Vanderbilt University School of Medicine, Nashville, Tennessee, and published in the 2011 issue of the journal "Dialogues in Clinical Neuroscience."