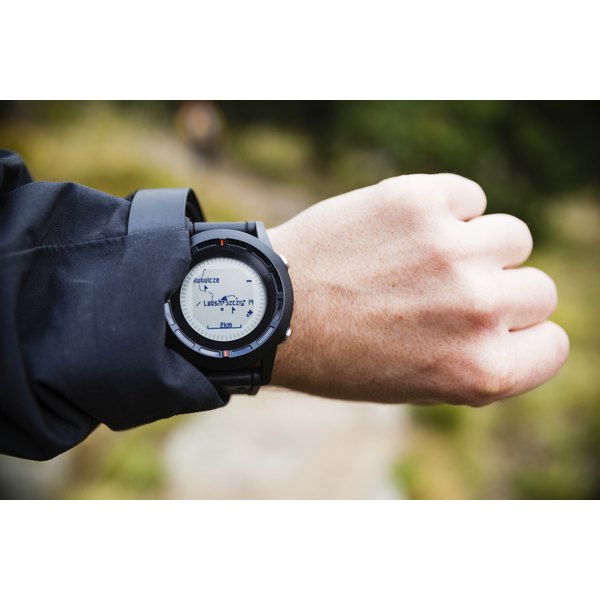 To measure how many calories you're burning while running, you need a reliably functioning device that can calculate that information for you while you focus on your workout. Watches made for that purpose work well. They help you keep track of your time and the amount of calories you've burned -- all at the turn of a wrist and without weighing you down.
The Nike+ Fuelband SE
Among full-fledged workout tracking systems, the Nike+ FuelBand SE is the epitome of efficiency. It looks like a simple bracelet, but it offers multiple features to help you increase your activity level and keep track of your workouts. The FuelBand keeps time, counts calories, and records your mileage. If you register your device at NikePlus.com, it even links to your smartphone so that you have easy access to your data there or on your computer. As of the date of publication, prices start at $149.
Garmin FR 70
The Garmin FR 70 has a design that is a little more conventional, but it still has the features that you are looking for to help you track your progress during workouts. The FR 70 keeps track of the current time, calories burned and heart rate. You can also purchase a foot pod that will help the watch track your speed and distance when you're running. Prices start at $129.
Nike+ Sportwatch GPS
While the Nike+ Sportwatch GPS is also shaped more like a conventional watch, it still includes advanced technology to help you track your fitness progress. The Sportwatch keeps time as it monitors your heart rate and tracks calories burned, running pace, mileage, run time, number of laps and intervals completed. It even has a customizable display, so only what you are focused on during your run shows on the screen. A reminder feature helps you ensure that you're running as often as you intend to. Prices start at $120.
Choosing What's Right For You
Pricing and features play a big role in choosing the running watch that is right for you and how you work out. There are more basic models available that may only track calories and time and might be sufficient for the amateur runner. The watches with more features are designed for the hardcore runner who is trying to elevate her fitness level dramatically and wants to keep accurate track of various aspects of her progress.