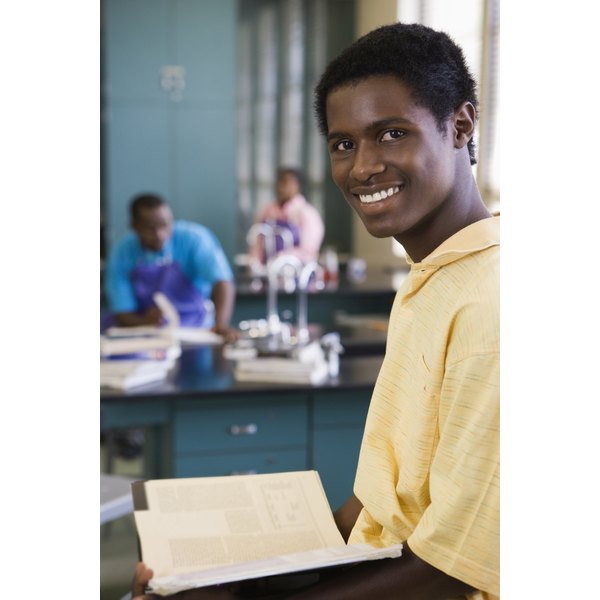 According to a study conducted at Weill Cornell Medical College in New York, one in seven American teens is deficient in vitamin D. Vitamin D helps children and teens build strong bones as well as boost overall mood. One A Day Teen Advantage vitamins contain 100 percent of the daily recommended value of vitamin D, as well as other vitamins and minerals that help support a healthy, growing teenager.
Vitamins and Teens
Teens often skip breakfast, eat a lot of junk food and drink soda and other sugary drinks more than water, milk or juice. As a result, teens may fall short when it comes to meeting recommended daily values for vitamins and minerals. Teenagers need calcium, protein, potassium, magnesium, Vitamin B, D and K as well as other vitamins and minerals in order to support important bodily functions. Although nutritionists point out the importance of receiving nutrients through food, vitamins such as One a Day Teen Advantage may also be used if your teenager isn't eating a healthy, well-balanced diet, according to Kids Health.
Teen Advantage For Him
According to Bayer, the manufacturer of One a Day Teen Advantage vitamins, the "For Him" vitamin formula is specially crafted to contain the vitamins and minerals needed to support male teens. The complete multivitamin includes magnesium for muscle function as well as various other vitamins to boost energy, support strong bones and a healthy immune system.
Teen Advantage For Her
According to the manufacturer, One a Day Teen Advantage For Her comes with specially formulated vitamins that help support the needs of a growing teen girl. The complete multivitamin comes with various vitamins to help clear up skin, build strong bones and support a healthy immune system. The vitamin formula also provides a natural boost in energy.
When to Start
If your teen isn't getting enough vitamins and minerals from a healthy, well-balanced diet, then encourage your teen to start taking vitamins right away. However, a specially formulated teen vitamin is not necessarily needed. David Schardt, a nutritionist at the Center for Science in the Public Interest, explains the nutrient needs of teens are the same, whether they are male or female. Furthermore, he explains there is no need to buy vitamins that advertise themselves as benefiting teenagers. Adult multivitamins work just as well as so-called specially formulated teenager vitamins.