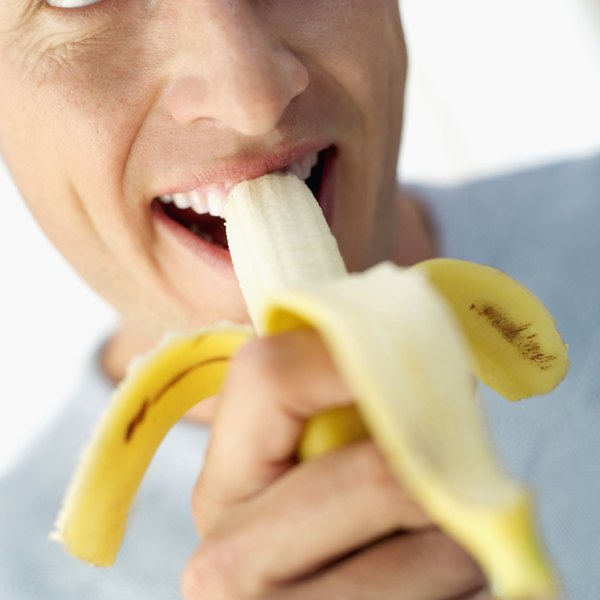 Bananas are a convenient snack when you're on the go. Full of fiber to keep you satisfied, these fruits are also loaded with nutrients to keep you healthy. No wonder bananas are the fourth largest fruit crop in the world -- about 28 million tons of bananas are grown worldwide each year. So grab yourself a bunch and start snacking.
Full of Fiber
One large banana contains about 3.5 grams of fiber, which constitutes more than 10 percent of the fiber an adult needs each day, according to the American Heart Association. Adequate fiber intake provides a variety of benefits, including lowered risk of heart disease, diabetes and constipation. Because of their high fiber content, which helps keep you fuller for longer, bananas make a satiating snack.
Plenty of Potassium
A large banana contains about 487 milligrams of potassium. This represents about 10 percent of your daily potassium needs. Adequate potassium intake is important for a variety of reasons, including heart health, optimal muscle health and function, and carbohydrate metabolism and usage. In comparison, a cup of grapes contains only 175 milligrams of potassium.
A Variety of Vitamins
Bananas are also good sources of some vitamins like vitamin C and B-6, as well as the mineral manganese. Vitamin C is an antioxidant that may help prevent cancer, lowers risk of heart disease and plays a role in wound healing. Vitamin B-6 is crucial for protein metabolism, and manganese is essential in processing carbohydrates, fat and protein.
Nutrient-Dense Choice
Because bananas pack this considerable amount of nutrition into only about 120 calories, they are a nutrient-dense food. In addition, bananas can be incorporated into your diet in a variety of ways. They can be eaten raw or dried and used in both savory and sweet recipes. Dried bananas can be added to a granola or trail mix. Paired with peanut butter, raw bananas make a protein-rich midday snack.