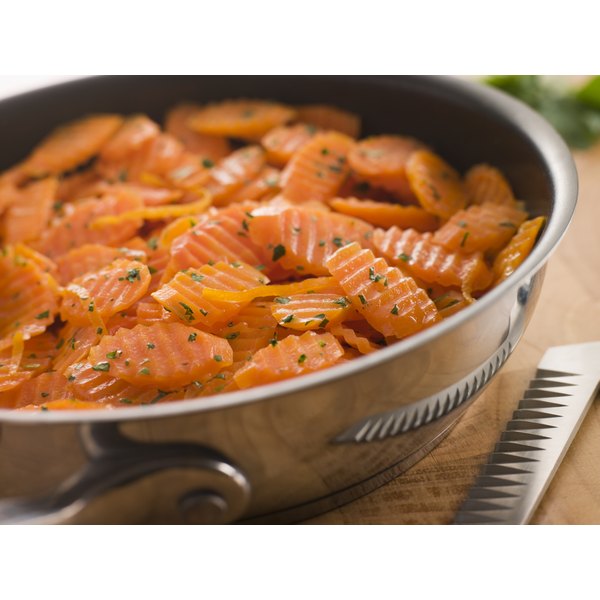 Systemic inflammation, a bodily response to injury or stress, can cause fatty deposits to build up in the inner lining of your arteries, according to the American Heart Association, AHA, which can lead to a stroke or heart attack. The AHA lists high blood pressure, cigarette smoking and hyperglycemia, or abnormally high blood glucose levels, as major risk factors for systemic inflammation. Nutritionist Monica Reinagel, author of the "Inflammation-Free Diet Plan," claims that the most important precaution you can take to reverse systemic inflammation is to eat a diet comprised mainly of low-inflammatory foods.
Theories on Diet
Some foods, such as French fries, pasta, cheese and bread, provoke an excessive inflammatory response within your body, according to Reinagel, a board-certified nutritionist. Other foods, such as wild Atlantic salmon, raw spinach, olive oil and raw carrots, fight bodily inflammation. Although inflammation is a healthy, necessary part of your autoimmune response system, if you eat an abundance of foods that provoke inflammation, you will remain overweight and stricken with chronic illness, says Reinagel. Therefore, you should eat an abundance of foods that fight inflammation to shed unwanted pounds and reduce your risk of developing life-threatening diseases, according to the "Inflammation-Free Diet Plan" website.
Methodology of Plan
You begin the diet by answering a series of questions Reinagel proposes to help you determine which one of three plans – reduced calorie, therapeutic or prevention/maintenance – you need to achieve your weight loss and wellness goals. Based upon your answers, you use Reinagel's IF, or inflammation factor, rating system to design a diet high in anti-inflammatory foods and low in inflammatory foods. You also take multivitamin, fish and calcium supplements while on the program.
Additional Input
All three of the "Inflammation-Free Diet" plans include foods from all food groups and provide reasonable daily caloric intake levels, writes Lona Sandon, a registered dietitian and spokesperson for the Academy of Nutrition and Dietetics. All three plans are deficient in Vitamin D and calcium, says Sandon. Furthermore, Sandon states that Reinagel's IF rating system is extremely difficult to master. Therefore, following the USDA's "Dietary Guidelines for Americans" might be a simpler, more advantageous way for you to eat correctly, says Sandon. She adds that the IF rating system has not been scientifically tested.
Check With Physician
Speak with your doctor about the pros and cons of the "Inflammation-Free Diet" before you begin the program. Your doctor might suggest that you follow another diet plan that better supports your individual medical condition and weight-loss goals.