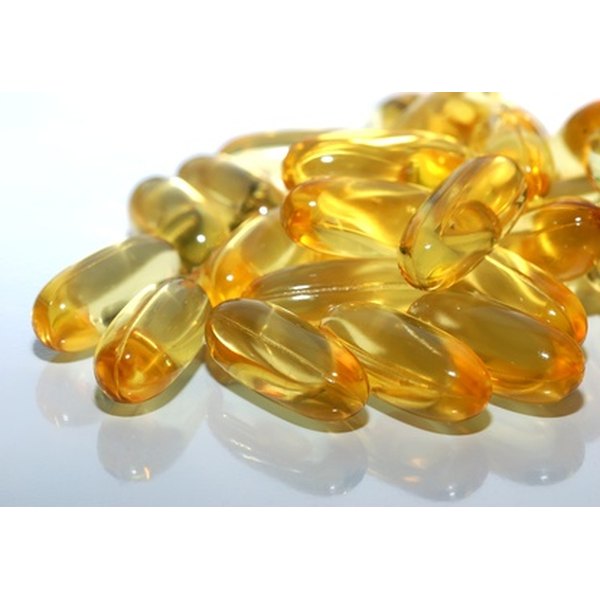 Borage oil and evening primrose oil, both dietary supplements, are renowned for their potential health benefits and content of essential fatty acids. Both contain high concentrations of GLA and can be used to relieve a variety of medical conditions. While they may be used to treat the same conditions, their concentrations and dosage guidelines vary.
Gamma-Linolenic Acid
Both the borage and evening primrose plants are prized for their high content of gamma-linolenic acid, or GLA. The oils are derived from the seeds of both plants and sold as dietary supplements. GLA is an essential fatty acid that is often lacking in the average person's diet, according to Beth Israel Deaconess Medical Center. It may play a role in the control of symptoms of some chronic conditions, including rheumatoid arthritis and diabetic neuropathy. GLA may play a role in controlling arthritis inflammation and may reduce the pain response associated with diabetic neuropathy, Memorial Sloan-Kettering Cancer Center reports. GLA is often prescribed for breast pain, also called mastalgia, and eczema in Europe.
Borage Oil and Evening Primrose
Both borage oil and evening primrose oil are high in GLA, though to different degrees. Per the Beth Israel Deaconess Medical Center, borage oil is the supplement with the highest concentration of GLA, at 17 to 25 percent. By comparison, evening primrose oil contains between 7 and 10 percent GLA, according to Beth Israel's calculations. This does not mean, however, that borage oil is superior to evening primrose oil; it simply means that they may be appropriate for different medical conditions. Conditions that require less GLA for symptom control, such as mastalgia, may benefit from a round of evening primrose oil. Those that require higher concentrations, like arthritis pain, may be more suited to borage oil.
The Research
Several studies that both Beth Israel and the Memorial-Sloan Kettering Cancer Center reviewed report that borage oil does show promise when it comes to treating rheumatoid arthritis pain. It may be more appropriate than evening primrose oil, as those with RA may not get enough GLA to affect their pain from evening primrose oil alone. For mastalgia, evening primrose alone can be sufficient for some people as their doctor advises. Evening primrose oil can also benefit people who have diabetic neuropathy, taken in addition to their usual medications. Borage oil is also appropriate for these conditions, though generally in lesser amounts.
Guidelines for Use
For mastalgia, Beth Israel recommends 2 to 4 g of evening primrose oil or 1 to 2 g of borage oil per day. Their suggested dosage for diabetic neuropathy is around 4 to 6 g of evening primrose oil vs. 2 to 3 of borage oil. The amount required for rheumatoid arthritis pain is variable.
When choosing supplements, however, the University of Maryland Medical Center advises taking an evening primrose oil that contains a standardized 8 percent GLA. In addition, some compounds in borage oil can be toxic in high quantities. Though this is rare, Sloan-Kettering recommends choosing a supplement labeled UPA free that contains only trace amounts of the potentially toxic alkaloid. Before using any dietary supplement, always talk to your doctor about dosage recommendations, potential side effects and drug interactions.