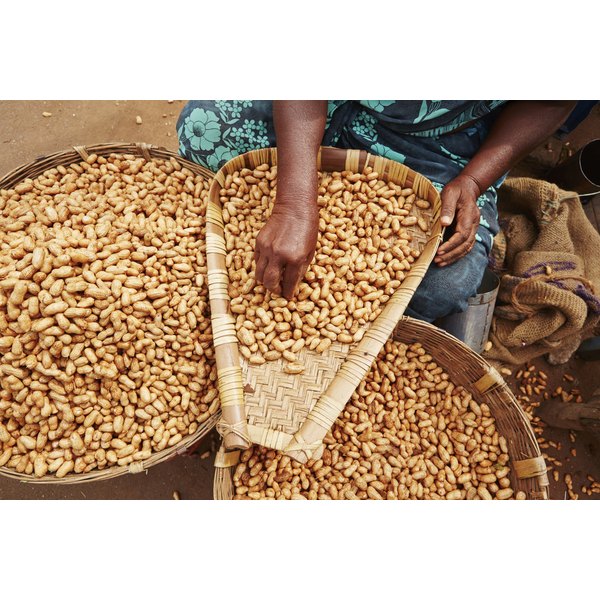 More than 60 percent of peanuts grown in the United States grow in five southern states, according to the Southern Peanut Farmers Federation. You can puree the humble peanut to make homemade peanut butter or roast it for a healthy snack or a topping on salads. Although peanuts are not inherently unhealthy, you should think of them as one part of your overall healthy eating strategy, and not as your main source of nutrients.
Peanut Categorization
The USDA places peanuts in the protein group of the food pyramid. Also in the group are other nuts, beans and meats. You should have 5 to 6.5 oz. of proteins a day, with the lesser quantity for women and the high for men. Your body needs proteins for your skin, muscles, blood and bone health, according to the USDA.
Nutritional Information
Peanuts have a wide variety of important nutrients such as antioxidants, which help your body fend off serious diseases like some cancers and coronary heart disease. Unsalted dry-roasted peanuts have 166 calories per 1 oz., and the same amount of raw peanuts contains 161 calories. Peanuts are high in heart-healthy polyunsaturated and monounsaturated fats, and have less than 2 g of saturated fat per ounce. You need up to 38 g of fiber if you are a man and about 25 g if you are a woman. A 2 oz. serving of peanuts supplies almost 5 g of fiber, or 13 percent for men and 20 percent for women. Eating an ounce of peanuts gives you a small amount of iron, 15 mg of calcium and 187 mg of potassium.
Benefits
A study published in the May 2009 issue of the "American Journal of Clinical Nutrition" indicates that when people include peanuts and other types of nuts in their diet, they reduce their risk of coronary heart disease; peanuts may also help women avoid type 2 diabetes. Another study in the January 2011 edition of "Nutrition, Metabolism and Cardiovascular Diseases" found that when people add nuts or peanuts to their diet, it does not increase their waist size or body weight.
Cautions
The Centers for Disease Control and Prevention indicates that peanut allergies affect over 3 million people. You can develop an allergy or sensitivity to peanuts even if you have eaten them for years, according to the National Institute of Allergy and Infectious Diseases. Additionally, because of the high calorie nature of an ounce of peanuts, monitor how many ounces you eat to ensure you do not add more calories from the nuts than you intend. A 2 oz. snack of peanuts is about 36 to 40 halves and about 320 calories, or over 15 percent of a 2,000-calorie diet.