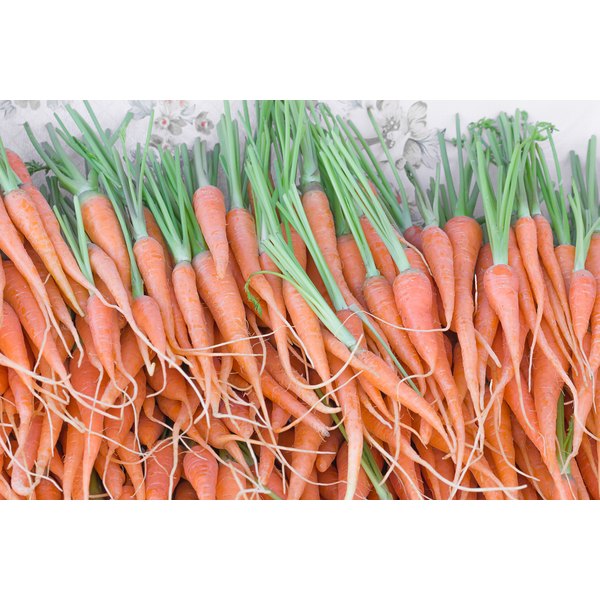 Carrots are an excellent source of vitamin C, potassium and fiber. Their orange coloring also indicates a healthy dose of beta-carotene, which your body uses to make vitamin A. Since carrots are hard and dense, choosing a preparation method that lets you add them to beverages can help increase your consumption of them. It can also make them more convenient to eat. Grating carrots puts all of their nutrients and fiber at your disposal with less effort and mess than juicing them.
Trim the tips of your carrots to remove any ridges and gnarls at the end. Leave the head, or root end, in place.

Lay the microplane on top of the bowl and hold it in place with one hand. If you are using a box grater, stand it upright inside the bowl and hold the handle firmly.

Hold the carrot by its root end and grate it on the microplane or fine side of a box grater. Keep your fingers and knuckles away from the grater's teeth.

Use a spoon to scrape any carrot shavings left on the underside of the grater into the bowl.

Spoon the grated carrot into the blender and add 8 to 12 ounces of the liquid of your choice. The sweetness of carrots complements apple juice, milk, orange juice and fruit nectars like mango.

Blend the juice and grated carrots together. Drink immediately or store in a covered container in the refrigerator.

Tip

One pound of carrots yields approximately 3 cups of grated carrot.

When you grate carrots on a microplane, the end product is thin and fine, like riced potatoes. You also get some juice from the carrot as the grater breaks the tissue down slightly.

Add nonfat yogurt, a banana and crushed ice to make a smoothie with your carrots.

Grated ginger, nutmeg, cinnamon and vanilla extract can add zest to your carrot beverages.

Warnings

Consuming large amounts of carrots may temporarily cause your skin to look orange.