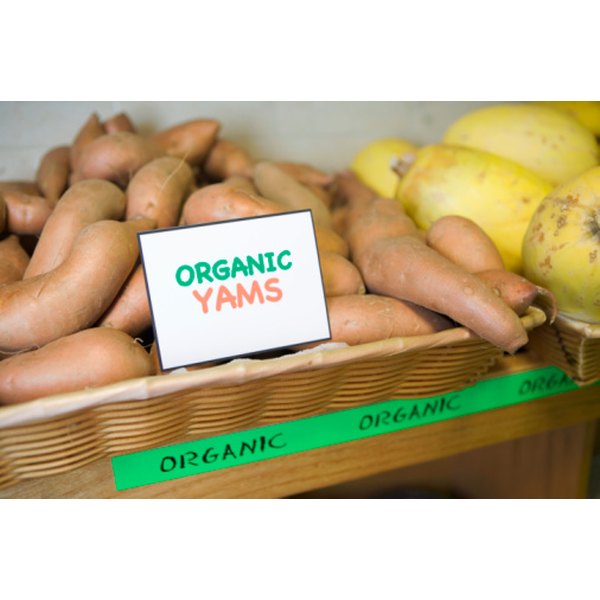 Yams, often interchanged with sweet potatoes in the American diet, are starchy tubers with ruddy-red skin and pinkish-orange flesh. They're loaded with beta-carotene, an antioxidant that breaks down into Vitamin A and promotes good vision and bone development. They're also high in Vitamin C, an essential tool for tissue repair. One large yam without added salt contains about 185 calories, 43 g of complex carbohydrates and 5.4 g of heart-healthy fiber. Roasting unpeeled yams is a simple and delicious method for preparing this nutrition-packed vegetable.
Choose equally-sized yams so each yam will be roasted in the same amount of time. The best yams are tapered on the ends and round in the middle, and heavy for their size.

Scrub the yams under running water to remove surface dirt. Pat them dry with paper towels. Cut out any bruised or pitted areas with the chef's knife, if necessary.

Cut the tips off each end of the yams. Slice each yam lengthwise into four quarters. Do not peel. Arrange the slices skin-side down on the baking sheet.

Spritz each yam with olive oil spray. Dust with salt and pepper to taste.

Preheat the oven to 425 degrees. Place the baking sheet with the yams on the middle rack.

Roast the yams for about 45 minutes, turning with a spatula every 10 minutes to ensure even roasting. After 40 minutes, test the slices for doneness: the blade of the chef's knife should slide easily through the center of the yams. Serve immediately.

Tip

Sprinkle fresh herbs on the slices, along with the salt and pepper, for variations on this healthy dish.