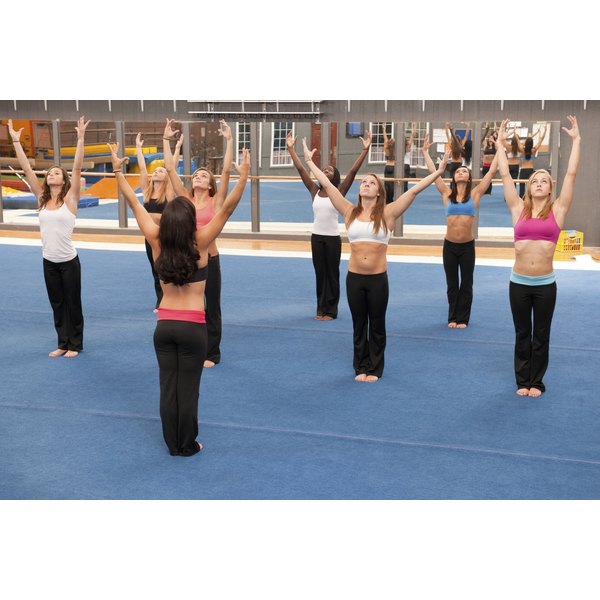 Gymnastics strengthens your muscles and helps build balance and flexibility. Gymnastics classes are not just for young children or girls. Many people are interested in learning more about the sport by taking entry-level courses. No matter your age, you can take a gymnastics class for beginners if you want to try the sport.
Children
Beginning gymnastics classes for younger children work to develop their skills and use some of their energy for the activities, all within a safe environment. Beginning classes may start with 1-year-olds, or as soon as a child begins to walk. These entry-level classes may start with the basics of floor work and somersaults, rolling and trampoline work. For very young children, parents may be involved in class activities to work together in learning gymnastics basics. Most of these types of classes are available at local health and fitness centers or private gymnastics academies.
Adults
Beginning gymnastics classes are not only reserved for children and teens. Many adults recognize the benefits of gymnastics. For some, it is a sport they have always found interesting but never had the chance to try. Others recognize the health benefits that go along with learning a new sport. Adult gymnastics classes for beginners are offered at gyms and fitness centers as a method of bringing more adults into the sport. These classes not only promote gymnastics, but also take into consideration the needs of adults, such as the potential for injuries and increased body weight.
Moves
Gymnastics classes for beginners typically focus on moves that are relatively easy to perform before working into more difficult activities. Classes may begin with stretching for long periods to improve flexibility. Some types of activities that you may learn in a beginning gymnastics class also include jumping on low trampolines, forward and backward rolls, handstands, cartwheels and round-offs. These moves are often taught and practiced before students progress into more advanced skills, such as handsprings, flips and dive rolls.
Benefits
A beginning gymnastics class can provide health benefits for you and your children. According to Gymnastics Risk Management and Consultation, beginning classes in gymnastics can help develop cognitive skills in children, promote self-esteem and reduce the risk of substance abuse and crime among adolescents. Additionally, gymnastics is a form of strength training, which can build muscle and support bones, possibly reducing your risk for bone loss and the development of osteoporosis.