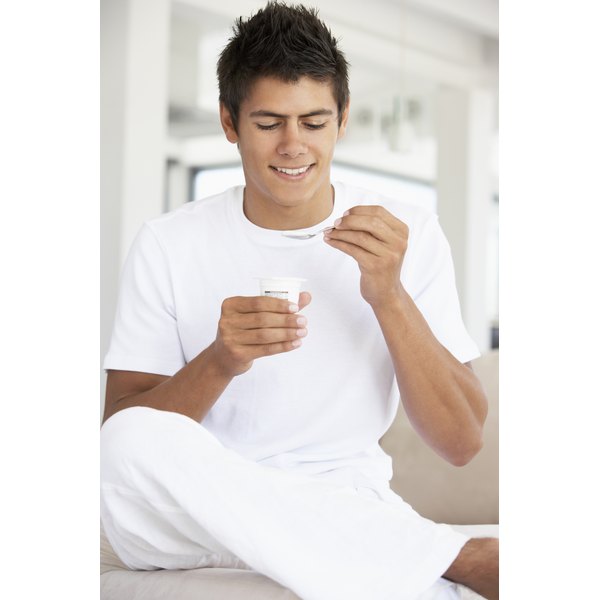 Gastroparesis causes chronic delaying of stomach emptying. It can occur in conjunction with several diseases including diabetes. If you have gastroparesis, you may experience nausea, bloating, heartburn and weight loss, as noted by the International Foundation for Functional Gastrointestinal Disorders. This condition affects the amounts of food you can eat and how well your system can digest them. To obtain the needed nutrition from your diet, you will have to make adjustments to accommodate the changes in your stomach.
General Diet Considerations
When you first develop gastroparesis, keep certain considerations in mind when planning your diet. Eating smaller, more frequent meals can allow you to avoid stomach distention; smaller meals may leave the stomach faster than large meals, according to the American Motility Society. To maintain adequate nutrition, you may need to eat four to six times each day. You should also avoid foods that are high in fiber and high in fat because both of these substances can slow down gastric emptying. In some patients, the slow emptying can lead to a blockage in the stomach called a bezoar. Foods that are not easily chewed like popcorn, nuts, and seeds may not leave the stomach properly and can lead to discomfort.
Your doctor and dietitian may start you on a diet of liquids and advance your diet gradually as tolerated while remembering these basic considerations, as noted by Pennsylvania-based Jackson Siegelbaum Gastroenterology.
Stage One Gastroparesis Diet
In the first stage of the gastroparesis diet, your doctor will place you on a liquid diet. Liquids tend to leave the stomach normally no matter what; your dietitian can make sure that you get enough vitamins and minerals during this stage, according to Jackson Siegelbaum Gastroenterology. During this stage, you will need to avoid all fiber foods like fruits and vegetables; dairy products should also be avoided because of the amount of fat. Saltine crackers, sports and soft drinks, and bouillon are all safe to eat during stage one. Your dietitian will carefully monitor what you eat to keep you hydrated and healthy.
Stage Two Gastroparesis Diet
In the second stage of the diet, your dietitian will add less than 40 g of fats to your diet each day; this adds calories while still limiting the amount of fat that you intake, as noted by Jackson Siegelbaum Gastroenterology. You can begin to include some low-fat dairy products like cheese or milk and bread, pasta and cereals made from white flour. Some well-cooked vegetables are acceptable during this stage as well like beets, carrots, yams and potatoes – all without skins. Fruit juices and canned fruits without skins can be eaten as well. Fruits like apples, berries and figs and vegetables like green beans, beans and Brussels sprouts have all been associated with bezoar formation, as noted by the UVA Digestive Health Center. Sweets like frozen yogurt, fruit ices and gelatins are acceptable as well. Your portion sizes will be smaller than before but you can still get plenty of nutrition.
Stage Three Gastroparesis Diet
For the third part or long-term maintenance of your diet, the amount of fat is increased to 50 g each day, which many people with gastroparesis can tolerate, as noted by Jackson Siegelbaum Gastroenterology. Foods with fiber remain limited; you can continue to eat well-cooked vegetables without skins and canned fruits without skins. Vegetable juices and fruit juices are all acceptable as tolerated. Long term, you can eat meats like lean ground beef, poultry, and fish; however, fibrous steaks may cause problems. If you puree or grind most meats, you should be able to tolerate small portions of many different types of meats, as noted by the UVA Digestive Health Center.
Dietary Supplementation
Even with assistance from your dietitian, you may still have difficulties obtaining all of the nutrients and calories that you require each day. Instead of drinking water, you may want to drink a higher calories fruit juice. Adding powdered milk to dishes or beverages can also add extra calories without adding extra volume to your meal. Instant breakfast or protein powder can also add needed calories, according to the UVA Digestive Health Center. Liquid nutrient beverages can also help your get additional calories and nutrients without adding fiber, as noted by the American Motility Society. Adding ice cream or sherbet to the nutrient beverage can also boost their caloric and nutrient values.