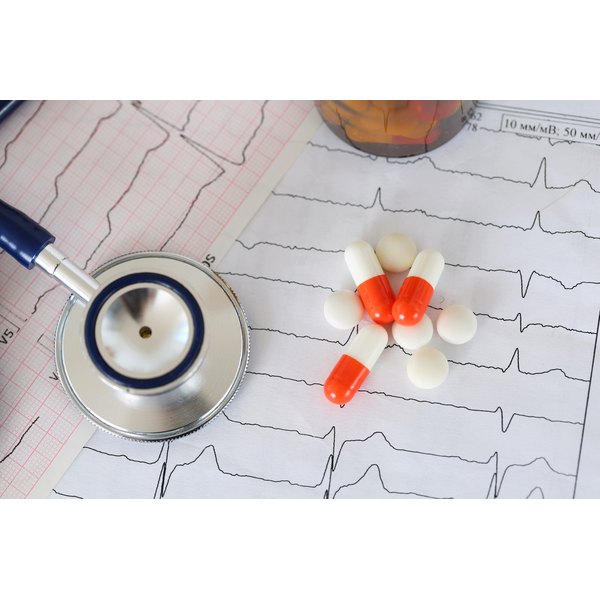 Magnesium is a metallic element that serves a variety of important functions in your body. Since magnesium is a component of chlorophyll, the main dietary sources of this important mineral come from the plant kingdom. According to nutritionist Elson Haas in "Staying Healthy with Nutrition: Magnesium," magnesium levels in the American diet have dropped in the past three decades as a result of the increased consumption of refined and processed foods. Thus, magnesium deficiency is probably fairly common.
Functions
Magnesium is a cofactor for hundreds of enzymes in your cells, many of which participate in protein and carbohydrate metabolism. Magnesium is also needed for the production and function of the DNA in your chromosomes. One of magnesium's primary functions is to balance the activities of calcium in your cellular fluids; calcium acts as a stimulatory ion, while magnesium exerts a relaxing influence. Whereas calcium tends to increase the irritability of nerve and muscle cells, magnesium serves to suppress electrical excitability in your tissues.
Arrhythmia
Irregularities in heart rhythm, known as arrhythmias, stem from increased electrical irritability in isolated regions of your heart muscle. These sensitive areas can "short circuit," initiating abnormal rhythms that quickly overwhelm your normal heart rhythm. A study published in the March 2002 issue of "The American Journal of Clinical Nutrition" confirmed that low tissue magnesium levels, a condition called hypomagnesemia, are associated with a higher incidence of arrhythmias, and researchers at Baylor University Medical Center list hypomagnesemia as one of the risk factors for developing an arrhythmia.
Treatment
Arrhythmias are common among intensive care patients, particularly those who have underlying heart disease or who have suffered from heart attacks. A review in the April-June 2010 issue of "Journal of Emergencies, Trauma and Shock" cites the use of magnesium for managing arrhythmias in the hospital setting and specifically addresses the role of hypomagnesemia in the genesis of these potentially deadly heart rhythms. Furthermore, if an arrhythmia does occur in a critically ill patient, that patient is less likely to be resuscitated if he has a low magnesium level.
Considerations and Recommendations
Since most of the magnesium in your body is sequestered in your bones or contained within your cells, a serum magnesium level may not accurately reflect your total body stores of this critical nutrient. Improved dietary intake of magnesium will help ensure adequate cellular levels. Minimum daily requirements for magnesium range from 30 mg for infants to 420 mg for adult males. Dark green vegetables, nuts, seeds and legumes are good dietary sources of magnesium, as are some whole grains, avocados and apricots. Hard water is also valuable magnesium source.