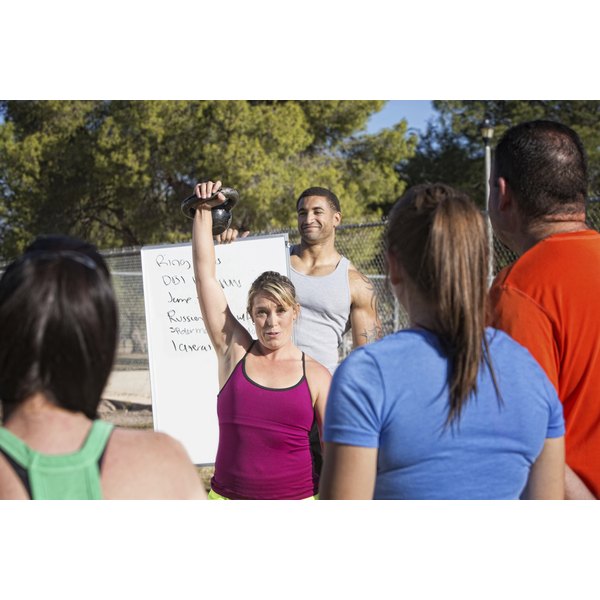 Typical boot camp workouts combine intense aerobic exercise with muscle-building, resistance exercises, and challenges that boost flexibility and coordination. The vigorous, fast-paced regimen spikes your heart rate so you burn a high number of calories. Daily boot camp training burns fat and builds muscle, increasing weight loss and supporting maintenance of a healthy weight. Consult your doctor before starting an intense boot camp regimen for weight loss.
Cardiovascular Activity
Select a boot camp program at a challenge level that suits your goals. To lose weight, you want a boot camp that features a significant amount of cardiovascular activity. A minimum of 150 minutes of moderate to vigorous aerobic exercise per week works best. In boot camp workouts, the cardiovascular activity takes the form of sprinting, jumping rope, dashing up long flights of stairs, navigating an obstacle course or doing calisthenics like jumping jacks and burpees.
Strength Training
A boot camp workout should also strengthen your upper body, core and lower body muscle groups. Hit multiple muscles, tendons and joints with compound exercises such as lifting a dumbbell while doing deep squats, or doing triceps extensions paired with lunges. Hardcore muscle-building challenges in back-to-basics training programs include dragging bags of sand across a field or over a hill. Exercises such as pushups, pullups, abdominal crunches while bicycling your legs, squat jumps and burpees strengthen your whole body. The muscle you gain replaces fat, raising your resting metabolism so that you burn more calories around the clock.
Intensity
The varied exercises in a boot camp provide an interval-training workout. The idea is to raise your heart rate with a speed interval or an intense activity for anywhere from 30 seconds to a couple of minutes. Then you reduce your pace to rest for up to one minute. You spend the next few minutes doing a moderate to vigorous activity before engaging in another speed interval. Maximize your calorie-burning benefits by sprinting rather than running over a hill, kicking higher during martial arts moves or doing deep squat jumping jacks rather than traditional jumping jacks.
Add Challenges
As you lose weight, you burn less calories doing the same boot camp exercises. To keep losing weight, add challenges to your boot camp regimen. Lengthen your speed intervals or shorten your rest period. Add more cardiovascular movement to your boot camp regimen or work out longer. Use heavier weights when doing strengthening activities. If you race-walk, jog or run as part of your boot camp program, use a hillier route or one with a steady uphill grade.