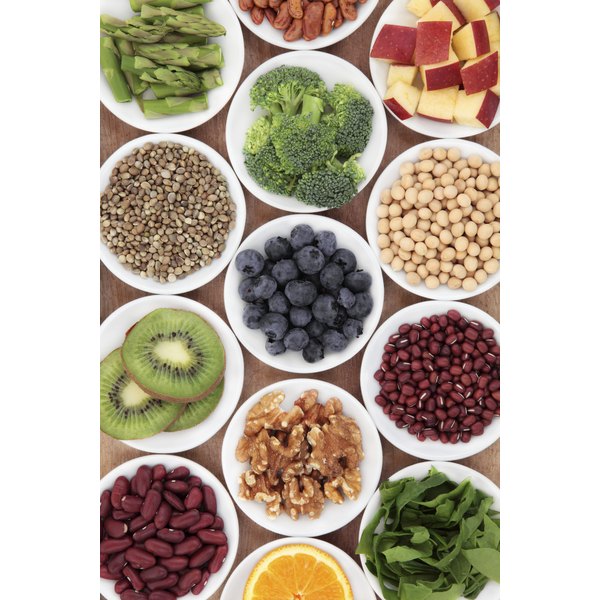 Carbohydrates are derived from sugar molecules that naturally occur in many foods. Carbohydrates are a part of a balanced diet when consumed in moderation and within a healthy range. The U.S. Department of Agriculture has developed recommendations for how many carbohydrates people of various ages should consume as part of a balanced diet. Understanding this information can help you to manage your 14-year-old's nutrition.
Recommended Caloric Intake
Although you may not count calories specifically, dietary recommendations such as carbohydrate intake are based on caloric intake. For example, the American Heart Association recommends that female children between the ages of 14 and 18 consume 1,800 calories per day. Male children between the ages of 14 and 18 should consume 2,200 calories per day.
Role of Carbohydrates
Although carbohydrates sometimes have a negative nutritional reputation, they play several vital roles. Carbohydrates provide the body with a source of energy. In addition, eating carbohydrates that contain whole grains and dietary fiber can help reduce the risk of developing cardiovascular disease, according to the Mayo Clinic website. The accumulation of cholesterol and lipoproteins can lead to cardiovascular disease, and whole grains or fiber from these carbohydrates act as an abrasive agent to prevent the buildup of these elements in the blood.
Recommended Carbohydrate Intake
The U.S. Department of Agriculture, or USDA, recommends that teenagers or adults who consume an average of 2,000 calories should consume between 225g and 325g of carbohydrates. This amount is appropriate for your 14-year-old son. However, if your 14-year-old daughter consumes slightly fewer calories, she should consume slightly fewer carbohydrates.
Sources of Healthy Carbohydrates
Several foods contain carbohydrates. Although carbohydrates are in many beverages and desserts, a healthy diet should be comprised of natural sources of carbohydrates such as fruits, vegetables, beans and legumes, nuts and whole grains. According to the USDA Food Pyramid, a 14-year-old's daily diet should include 1-1/2 to 2 cups of fruit; 2-1/2 to 3 cups of vegetables; 5 to 6 oz. of protein including beans, legumes or nuts; and 3 to 3-1/2 oz. whole grains.