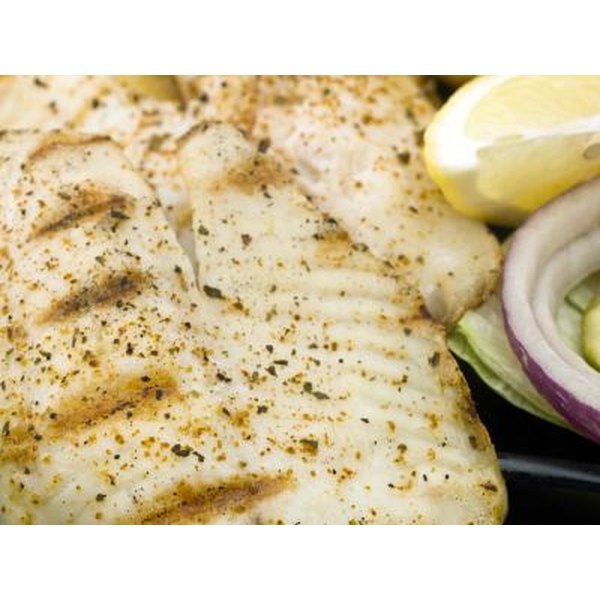 Tilapia is a fish originally found only in Africa and flourishes in warm climates. It can be bred and grown in indoor tanks and fish farms in colder climates. The fish has a delicate texture and flavor. Eating tilapia can help you meet your nutritional requirements for heart healthy fats and protein.
Food Pyramid Placement
Tilapia falls in the protein food group section of the U.S. Department of Agriculture's food pyramid, along with foods such as meat, dry beans, chicken, eggs and nuts. An adult man needs about 56 grams of protein a day, while an adult woman requires about 46 grams a day. Eating the right amount of protein from foods such as tilapia gives your body the ability to replenish the proteins that your body uses throughout the day through activity and digestion.
Calories and Fat
If you eat a 3-ounce. serving of tilapia, you will consume about 82 calories, according to the USDA National Nutrient Data Laboratory. The fish has 1.44 grams of fat per 3 ounces or about 13 calories from fat. There are three types of fat in tilapia: saturated, monounsaturated and polyunsaturated, with 0.5 grams coming from saturated fats and the other from the healthier fats. Even if you follow the American Heart Association's recommendation of limiting your saturated fat consumption to less than 7 percent of your calories, or 16 grams, on a 2,000-calorie diet, you can include tilapia in your diet because of the relatively small amount of saturated fat.
Protein and Carbohydrates
Like other fish, tilapia is a good source of protein; however, the fish does contain cholesterol. You will consume 17 grams of protein in 3 ounces of fish, which accounts for 37 percent and 30 percent of the daily requirement for women and men, respectively. The fish contains 42 milligrams of cholesterol, or slightly over 20 percent of your requirement, if you try to keep your overall cholesterol levels at 200 milligrams per day. Too much cholesterol in your diet can contribute to atherosclerosis, which can lead to strokes or heart attacks.
Other Nutrients
Tilapia contains choline, which benefits your cardiovascular health; niacin, which may help with your cholesterol level; and selenium, which is good for your body's immune system. Other nutrients in tilapia include magnesium, phosphorous and 257 milligrams of potassium. The fish is low in sodium, with 3 ounces having just 44 milligrams; the fish contains 8 milligrams of calcium per serving and a trace amount of iron.
Considerations
Avoid eating fried tilapia, because fried fish contains higher concentrations of fat and more calories than tilapia served grilled or baked. If adding breading to tilapia, use fresh, homemade breadcrumbs to avoid the high sodium content in many processed, boxed bread crumbs. Serve the steamed, grilled or baked tilapia with healthy side dishes such as steamed vegetables, whole-grain bread, brown rice or a large, green salad.