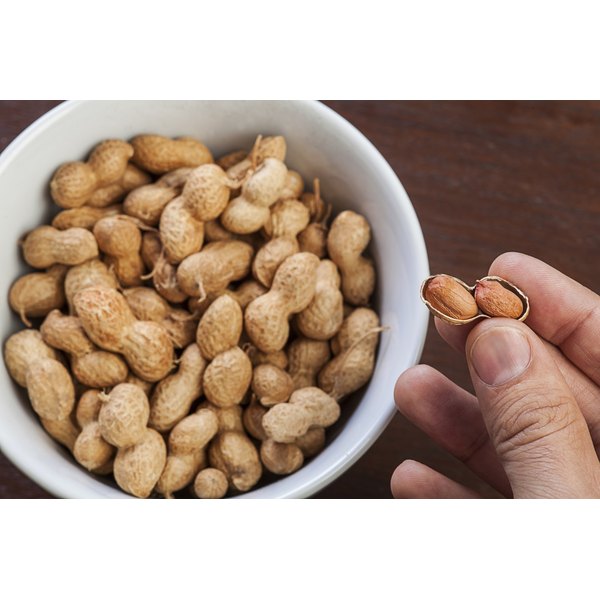 Too much sugar can lead to weight gain and a higher risk of developing Type 2 diabetes. A healthier option than a high-sugar diet is to limit your consumption of sugary foods such as cakes, candies and sugar-sweetened beverages. However, not all sugar-free foods are healthy. A good approach is to select unprocessed, highly nutritious foods.
Support Heart Health With Seafood
Fish and shellfish are naturally sugar-free, and they provide protein and iron. They are also sources of long-chain fatty acids known as docosahexaenoic acid, or DHA, and eicosapentaenoic acid, or EPA. These are omega-3 fats that can help fight inflammation, heart disease and high blood pressure, according to the University of Michigan Health System. The 2010 Dietary Guidelines for Americans recommends eating at least 8 ounces of seafood per week.
Eat Vegetables for Weight Control and Nutrition
Nonstarchy vegetables are low in calories and sugars, and they can help you control your weight and lower your risk for stroke and certain types of cancer. A cup of cooked broccoli contains 1 gram of sugar, and a cup of romaine lettuce has less than 1 gram of sugar. Starchy vegetables are also nutritious, but they are higher in sugar. A cup of baked sweet potato contains 16 grams of sugar.
Select Whole Grains Regularly
Whole grains contain the bran, germ and endosperm components of the entire grain kernel. An ounce of whole-wheat bread contains 1 gram of sugar. Consuming more whole grains can lower your risk for obesity and heart disease; half of your grains should come from whole-grain sources, according to the 2010 Dietary Guidelines. Select whole-wheat bread, pasta and crackers instead of white, and choose brown rice instead of white.
Go for the Nuts and Peanuts
Nuts are low in sugar and are sources of essential nutrients such as magnesium, potassium, and the antioxidant vitamin E. Peanuts are biologically classified as legumes, but they are nutritionally similar to nuts and are low-sugar and high-nutrient. An ounce of dry-roasted pistachios contains 2 grams of sugar, and an ounce of peanuts has 1 gram of sugar. Nuts and peanuts provide heart-healthy unsaturated fats and are low in cholesterol-raising saturated fat.
Considerations
Some foods that contain sugar are nutritious, and they can be regular components of a healthy diet. Milk and some dairy products, such as yogurt and cheese, contain a natural sugar called lactose. These foods provide high-quality protein and calcium, which is a mineral that helps support strong bones. A cup of milk contains 12 grams of sugar. Fruit, which contains a natural sugar called fructose, is low-calorie and a source of potassium and fiber. A cup of chopped raw apple contains 13 grams of sugar.