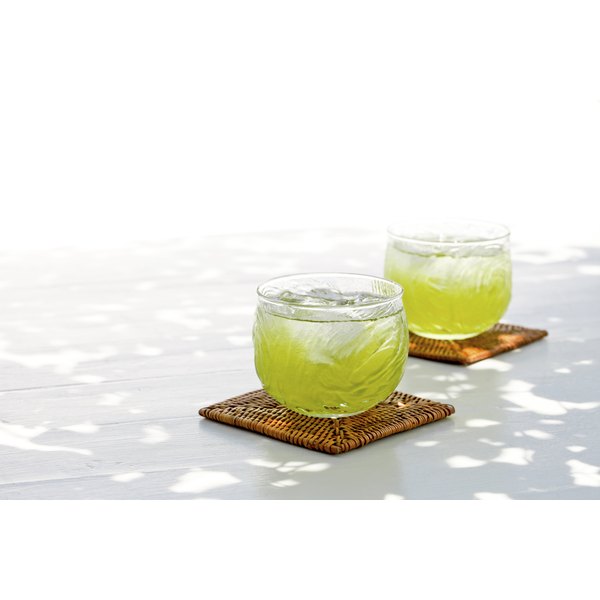 Energy-boosting herbs often work by increasing metabolism, which helps you burn fat and can lead to weight loss. Losing pounds and inches, similarly, may automatically lead to increased energy because you have less weight to carry. Always check with your physician before beginning a new course of herbal therapy, because some herbs may interfere with medication or cause side effects. Make nutrition and exercise the backbone of your health routine, reserving herbs for potential supporting roles.
Green Tea
Considered a more potent antioxidant than fruits and vegetables containing vitamin C, green tea boasts a high concentration of the therapeutic compounds known as polyphenols. The polyphenols in green tea appear to boost metabolism, burn fat and control blood sugar. The University of Maryland Medical Center recommends either drinking two or three cups of green tea each day, or taking it in capsule form at a dosage of between 100 and 750 mg each day.
Ginseng
Ginseng has become synonymous with natural energy enhancement, so it appears in countless energy products, from bottled ice tea and soda to herbal capsules. The Merck Manual of Medical Information warns that energy, unlike weight loss, is a difficult to measure, but participants in research in which ginseng was administered reported increased energy and better quality of life. Ginseng may also stabilize blood sugar and increase "good" cholesterol. While potential side effects are mild, Merck recommends limiting ginseng usage to three months.
Guggul
Guggul may be somewhat helpful in aiding weight loss by boosting metabolism, although its benefit as a weight loss tool is less studied than its role in treating arthritis, skin diseases and other disorders. Guggul is resinous substance found on the plant Commiphora mukal. Ayurvedic healers have used guggul as a healing medicine for thousands of years. The University of Maryland Medical Center recommends taking three 25-mg capsules per day, pending your physician's approval. The herb may interfere with several medications, and potential side effects include nausea and diarrhea.
External Treatment
Aromatherapist Jeanne Rose recommends using herbs and herbal essential oils in baths oils and soaps and to scent a room to energize your mood and promote water weight loss. Her recommended antibloat bath blend includes lemon peel, lavender, rosemary, juniper berries, pine needles and seaweed. She recommends infusing 4 oz. total of at least three of the herbs in 2 qts. boiling water. Add the strained, slightly cooled liquid to the bath. For increased energy, Rose suggests using specific essential oils in herbal diffusers, candles or bath oil blends. Invigorating herbal oils include citrus-based oils like grapefruit or lemon, as well as juniper, rosemary, peppermint and basil.