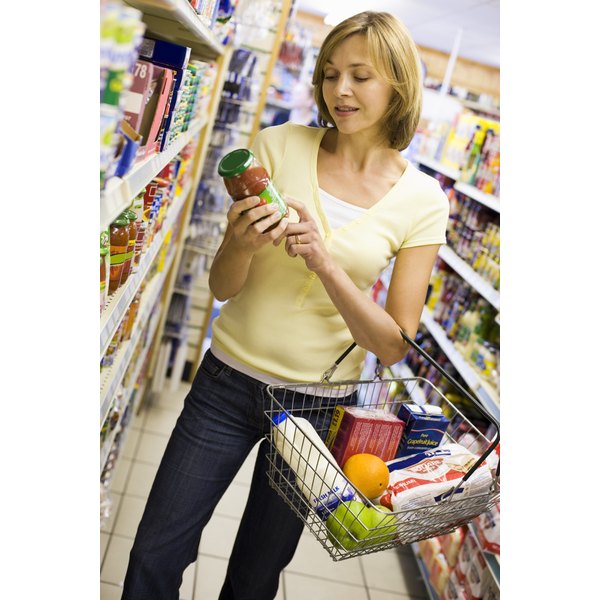 The key to sticking to a healthy eating plan is having nutritious foods readily available. When hunger strikes, it's much easier to avoid giving into a craving when your kitchen is full of healthy options. However, determining which foods to buy at the store and which to skip can be tricky for a beginner.
For the Refrigerator
When shopping, aim to purchase a mixture of ingredients to cook your own healthful meals and ready-to-eat snacks so you're never caught hungry without something easy to eat. Keep fresh foods in the fridge for easy access, including a variety of fruits and vegetables. Healthy dairy options on your list can include low-fat or fat-free milk, cheese and yogurt -- look for the kind without added sugar -- while refrigerated protein items might include eggs, chicken, lean beef and fish. If you like to drink juice, include 100-percent vegetable and fruit juices on your list, too, but don't drink them instead of eating whole fruits and vegetables.
For the Freezer
Stock up on healthful extras, so you always have ingredients on hand for an easy dinner. Purchase a selection of frozen vegetables -- choose the variety that can be microwaved in the bag it's purchased in for ease -- and frozen fruits for smoothies and topping oatmeal. Whenever healthful meat -- such as chicken breasts, ground lean turkey or beef and fish -- is on sale, purchase extra so you can freeze it for later consumption. Whole-grain bread can be frozen, too.
For the Pantry
Round out your grocery cart with a number of nutritious pantry staples. Skip the snack and potato chip aisle, but spend some time browsing the aisles that contain canned and dried beans, brown rice, whole-wheat pasta and other healthful grains, including oats, quinoa, barley and whole-wheat couscous. Pick up low-sodium canned tomatoes in a variety of forms – crushed, diced, peeled and sauce – and low-sodium canned vegetables. Purchase low-sodium chicken or vegetable broth to make soups a cinch, and proteins such as natural peanut butter and canned tuna in water. Don't forget to purchase extra-virgin olive oil and canola oil for cooking, as well as vinegars, spices and herbs for seasoning your food.
Read the Labels
If you're new to nutrition, it's not easy to figure out which foods are healthful and which are not -- particularly due to the number of unregulated claims that appear on packages, such as "all-natural" and "made with whole grains." To make it a little easier on yourself, learn what to look for on the nutrition label of packaged food. You want foods that have lower amounts of saturated and trans fat, cholesterol and sodium, and a higher amount of fiber, vitamins and minerals, including calcium, potassium and iron. Make a note of the number of servings -- an item might have just 150 calories, but if there's two servings in the box, then you might be eating double the amount. The healthiest of foods, fresh fruits and vegetables, need no nutrition labels – feel free to purchase as much as these as you'd like.