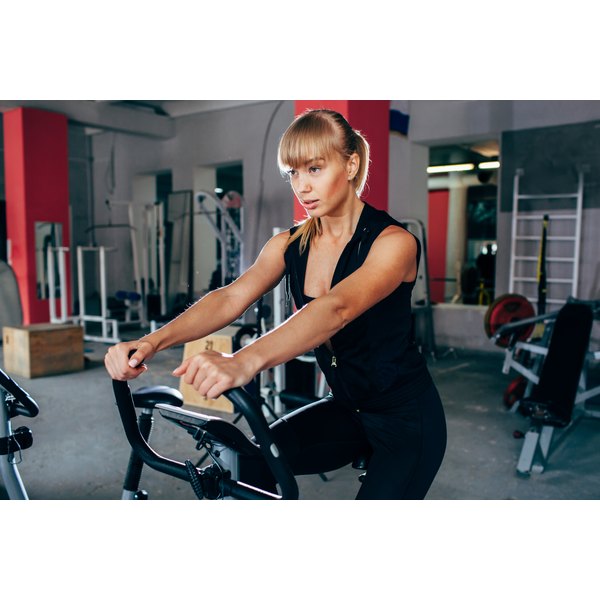 The Snap Fitness concept is to offer workout facilities close to where customers live and work, which are affordable, and open 24 hours per day, 7 days per week. Since one of their selling points is not waiting in line, these facilities lend easily to circuit training for weight loss.
Circuit Training
Circuit training is a method of using short bursts of different exercises in rapid succession. Normally resistance training does not cause the heart rate to elevate for an extended period. Sustaining a raised heart rate during exercise is essential to lose weight and improve cardiovascular health. In circuit training, you move between a variety of exercises, doing each for a short period. You then move quickly to another exercise using a different muscle group. You continue through this circuit, moving from one exercise to the next, for a set period.
Snap Fitness Circuit Training
Snap Fitness offers a circuit training concept called the Basic 8. This program takes you through a series of exercises to target eight muscle groups in the body – the chest, back, quadriceps, hamstrings, biceps, triceps, calves and abs. Machines at Snap Fitness are grouped according to these muscle groups so that you can move between them as needed. Some people also choose to rotate stints on one of the cardio machines in the circuit.
Sample Routine
An example workout looks like this: spend a couple of minutes on a cardio machine, like the treadmill, to get your heart rate up as a warm up. Then move on to eight different weight machines -- chest press, lat pulldown, leg extension, leg curl, bicep curl, tricep extension, back extension, seated calf raise and abdominals. Complete 10 to 15 reps on each machine and perform the entire circuit two more times, for a total of three complete circuits. End with a few minutes walking on the treadmill to cool down and return your heart rate to normal. You should be able to complete the entire routine in about 30 minutes.
Average Results
A 135-pound person burns about 402 calories per hour of circuit training. A heavier person will burn more and a lighter person will use less energy. Plan to circuit train three days per week, but always give yourself at least one day in between strength training for your muscles to repair themselves. The amount of weight you lose circuit training depends on your current weight, daily caloric intake and your level of physical activity outside the gym, but a healthy weight loss is one to two pounds per week.
Creating Your Snap Fitness Weight Loss Plan
During the Fast Start program, Snap Fitness trainers help each customer put together a workout routine based on her current fitness level and goals. Members can also purchase additional sessions with the trainers. Alternately, you can get weight loss circuit training programs from the Snap Fitness blog or develop your own 30 minute program, targeting each muscle group for 30 seconds at a time.