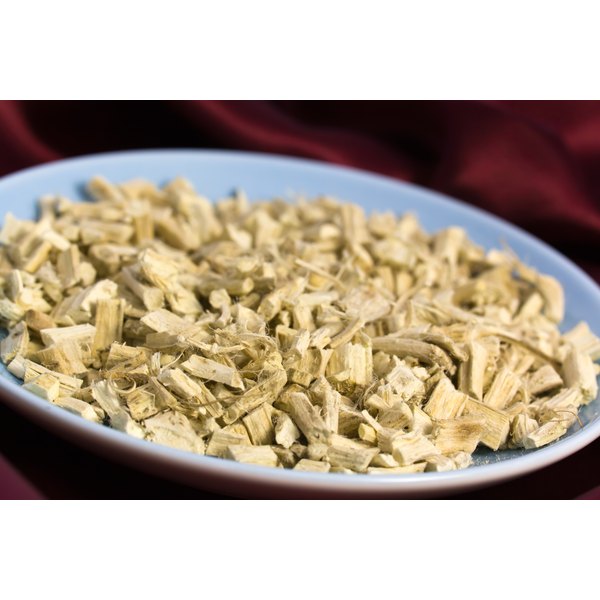 Marshmallow, most commonly known as the pillowy white, sweet treat both kids and adults love, is also an herb that has anti-inflammatory, diuretic, emollient and laxative properties. It has been used to treat the common cold, cough, sore throat, bronchitis, Crohn's disease, ulcerative colitis, irritable bowel syndrome, stomach ulcers, asthma, indigestion and skin irritations.
About Marshmallow
Marshmallow root, or Althea officinalis, is an herb that has been used for more than 2,000 years, both as a food and as a medicinal remedy. Marshmallow was native to Europe but has since also been cultivated in the U.S. Medicinally, the roots and the leaves are both used because they contain a powerful mucus-like compound known as mucilage, which has the ability to swell and expand when mixed with water, allowing it to coat and sooth irritated surfaces such as the throat, stomach and inflamed skin. It also appears to have anti-congestive properties and can loosen a cough caused by a cold or flu. Marshmallow can be found in tinctures, extracts, infusions, capsules, ointments, creams and cough syrups.
Cough/Sore Throat
Marshmallow may be effective in treating the symptoms of a cold, flu or cough. In a study published in the April 2003 issue of the "Journal of Alternative and Complementary Medicine," researchers found that an herbal product known as Throat Coat that contains marshmallow root is effective in relieving acute pharyngitis or sore throat. During this study, participants were given 5 to 8 oz. of Throat Coat four to six times per day or a placebo. The results showed that those participants who ingested Throat Coat had less difficulty swallowing and had little, if any, throat discomfort or pain. In another study published in the December 2005 issue of "Research in Complementary and Natural Classical Medicine," scientists found that an herbal remedy containing marshmallow root, thyme and ivy had the ability to reduce the severity of a cough that was associated with the common cold, bronchitis or other respiratory tract infections that caused mucus formation.
Skin Conditions
Due to marshmallow root's anti-inflammatory properties, it has been used to treat bruises, sprains, aches, burns, abscesses, dermatitis and other skin irritations. According to Drugs.com, marshmallow not only soothes irritated skin but also improves and hastens wound healing. In a study published in the January 2010 issue of the "Journal of Ethnopharmacology," clinicians found that marshmallow extract had a stimulating effect on cell proliferation of connective tissues and was extremely important to the tissue's regeneration. This proved that marshmallow root is effective in healing skin irritations and can speed up wound healing.
Side Effects
Marshmallow root is considered to be a generally safe herb, but consulting a doctor before use is highly recommended. Marshmallow root should not be used if you have diabetes, because it may interfere with blood sugar levels. It should be avoided if you are pregnant or breastfeeding. It should also not be used if you are on any prescribed medication. Since marshmallow root coats the stomach, it can slow the absorption of the drug.