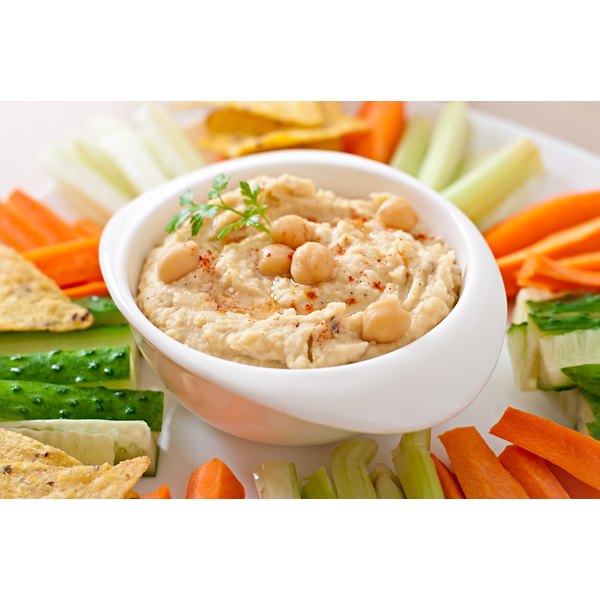 Choosing snacks wisely is another way to take care of your health and be a good role model for your family. Snacks help satisfy your hunger or desire for something sweet or salty between meals. You will spend less money on healthy snacks if you buy them in bulk, large containers or make them yourself. Plan ahead by using the different food groups to help you come up with a variety of healthy, inexpensive snacks.
Whole Grains
Whole-grain crackers, bread, pita and other whole-grains are wise choices for nutritious snacks. These snacks are pretty hearty, so a small amount will fill you up quickly, especially if you add hummus, peanut butter or cheese to it. Make your own whole-wheat bread, whole-grain muffins or whole-wheat oatmeal cookies to save money and provide healthy, inexpensive whole-grain snacks. For a mid-morning snack, try whole-grain breakfast bars or whole grain cereals without milk, but check that they're low in sugar and high in fiber. Buying cereals and granola from a bulk bin can be less expensive.
Vegetables
Fresh vegetables much go with almost any dip, hummus, salsa or on a whole-wheat pita with light cheese and dressing. Buying locally grown vegetables that are in season at a farmers market or at the grocery store is the least expensive way to shop for fresh vegetables. Use those vegetables to make a pot of vegetable soup that you can freeze in single servings. One cup of any homemade potato, winter greens, squash, carrot or any other vegetable soup with a slice of bread or a few crackers is a hearty healthy inexpensive snack. If you have a juicer, make a batch of pure vegetable juice that is low in sodium or stock up on pure vegetable juice when it is on sale.
Fruits
Fresh, frozen or canned fruits without added sugars provide the same nutrients. Buying seasonal fruit at your local farmers market, fruit stand or at the grocery store is less expensive than buying canned or frozen fruit. Use fresh fruit to make salads, smoothies or shakes. You can buy dried fruit inexpensively from bulk bins or in bulk size and make your own dried fruit mix. Or, you can harvest your own fresh fruit and dry it yourself.
Dairy
Dairy foods are a good source of complete protein and nutrients. Milk and milk-based desserts and yogurts are all good choices for a quick and healthy snack. Try a pint of milk, flavored milk, milkshakes, malt shakes, smoothies or yogurt beverages as a healthy snack. Add your favorite fresh fruit to any kind of yogurt or cottage cheese. The most inexpensive way to buy yogurt, and any other dairy products, is in large containers.
Protein
Quick and nutrient-packed snack ideas from the protein group are nuts and seeds and nut butters. A handful of almonds, cashews, mixed nuts, peanuts, pecans, pistachios, pumpkin seeds or sunflower seeds can satisfy your hunger and craving for something salty. Try peanut butter or almond butter on a slice of whole-wheat bread or whole grain crackers. Sunflower seeds and peanuts are the least expensive nuts to buy in 16 oz. packages. Almonds, cashews and pistachios might be more expensive, but sometimes all you need is a handful of nuts to boost your energy or 1/4 cup to add to your yogurt. One 16 oz. bag of almonds will give you about eight to 16 servings.