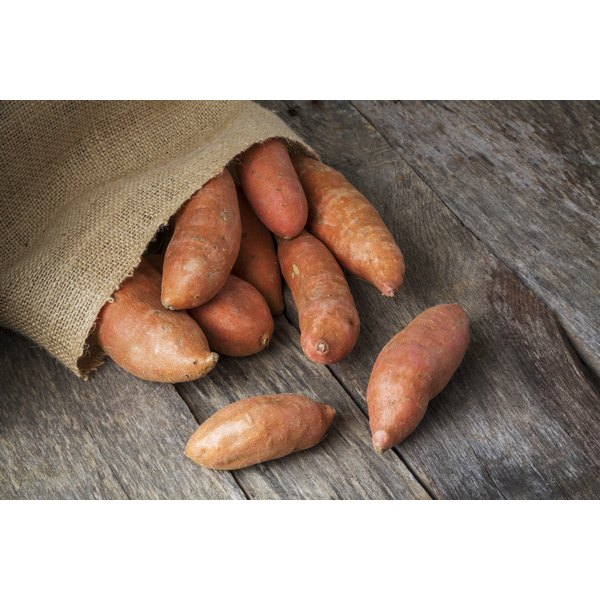 Sweet potatoes, often called yams, are actually two very different vegetables. Yams grow to a large size, including a record-setting 130 lbs. Sweet potatoes remain much smaller. In the United States, sweet potatoes and yams may refer to sweet potatoes. Sweet potatoes may improve the symptoms of type 2 diabetes.
Nutrition
A 1/2 cup serving of baked sweet potatoes contains 90 calories and no fat. A serving of sweet potatoes contains 35 mg sodium and 21 g carbohydrates. It also provides a good source of vitamin A, vitamin C, calcium and iron. A 1/2 cup serving of cooked, cut-up yams provides 79 calories, 19 g carbohydrates and 5 mg sodium. Yams provide calcium and potassium as well as vitamins A and C and calcium. Yam contain trace amounts of fat.
Sweet Potato and Diabetes
At least two studies suggest that the starch in sweet potatoes may help regulate blood sugar in people diagnosed with type 2 diabetes. An animal study conducted by S. Kusano and other researchers at the Institute of Japan found that sweet potatoes rats respond better to insulin, according to the report published in January 2011 edition of "Bioscience Biotechnology Biochemistry." B. Ludvik and colleagues at the University of Vienna in Austria tested the benefits of white-skinned sweet potatoes on persons and also found that the vegetable improved resistance to insulin, according to an article published in July 2003 in "Metabolism."
Sweet Potatoes and Carotenes
A cup of cooked sweet potatoes provides 30 mg of beta-carotene, as much as you'd get in 23 cup of broccoli. The darker the sweet potato, the more carotene it provides.Sweet potatoes may help lower your risk of heart disease, fight cataracts and prevent cancer. To gain the most nutrition from sweet potatoes, cook them with their skins on. The skins will remove easily after cooking.
Wild Yam
Uses of wild yam include relieving menstrual cramps, nausea, morning sickness osteoporosis and symptoms of menopause. No evidence exists, however, that this herbalist treatment works, according to the University of Maryland Medical Center. Early Americans used wild yam to treat colic, inflammation, asthma and muscle spasms, but scientific evidence does not support the use of yams for these problems. Some evidence suggests wild yam may help reduce triglycerides, an unhealthy fat that acts similarly to cholesterol. If you or anyone in your family has a history of hormone-related cancer, consult your physician before taking wild yam or any other estrogen replacement.