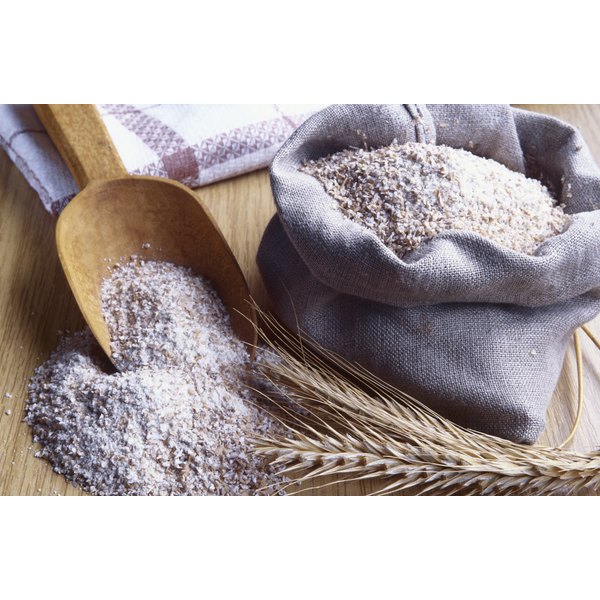 A vast percentage of the baked goods, pastries and breads you eat are made with refined wheat flour. After removing the bran, many nutrients are lost from what you commonly know as all-purpose flour. Whether you're baking bread, baking cookies or flipping pancakes, there are many healthier flour options available for substitution.
Yeast Breads
One obvious substitution when baking breads is to use whole wheat flour in place of all-purpose or bread flour. Because the high-gluten content of bread flour is vital to the texture of the finished product, it is recommended only to replace up to half the flour with whole wheat flour. Whole wheat flour provides 3 g fiber in ¼ cup, whereas bread flour contains less than 1 g fiber per ¼ cup. A newer option is white whole wheat flour which provides the same nutrition as traditional whole wheat flour, but it is made from a milder-flavored winter white wheat as opposed to hard spring red wheat. Buckwheat flour, pumpernickel flour and spelt flour can also be substituted in the same way as wheat flour and provide the same nutritional benefits. Soy flour can be added to baked goods for a boost of protein and healthy fats. Bob's Red Mill recommends adding 1 tbsp. per 1 cup of flour for a superior finished product. Barley flour can replace up to one-third of bread flour and has 4 g fiber per ¼ cup.
Quick Breads
Buckwheat flour is a good source of fiber with 3 g per ¼ cup and can substitute all-purpose flour. Corn flour, particularly organic corn flour milled from whole grain kernels, is also a good source of fiber and, replacing corn meal in cornbread makes for a softer, moister texture. Millet flour also has more fiber and can replace up to one-fourth all-purpose flour. For a nutty, sweet alternative to all-purpose flour, replace up to one-third of all purpose flour with fiber-rich barley flour. White whole wheat is also a nutritious substitute for one-half the all-purpose flour in quick breads, due its mild flavor and light color.
Pancakes and Waffles
Buckwheat is popular for making sweet and savory pancakes and waffles and can be blended with whole wheat pastry flour for a high-fiber breakfast. Teff is a grain popular in Ethiopia and is used to make savory crepes. With 4 g fiber per ¼ cup, it is a hearty and filling flavorful alternative. Barley flour can be used on its own to makes nutty-flavored pancakes rich in fiber. White whole wheat flour can be used in a 50:50 ratio for pancakes and waffles and is the same as the conversion for yeast breads and quick breads. Kamut is a buttery-flavored, easy-to-digest relative of wheat with 3 g fiber per ¼ cup and can be used without the combination of wheat to make pancakes and waffles.
Pastries and Desserts
Whole wheat pastry flour is very finely ground white winter wheat and is suitable for finer pastries and desserts due to its delicate texture. It still has just as much fiber as other whole wheat flours and can even be used on its own for baking cakes. Millet flour can be used in combination with other flours to make desserts like cookies and scones, but it should be used alone due to its unusual flavor.