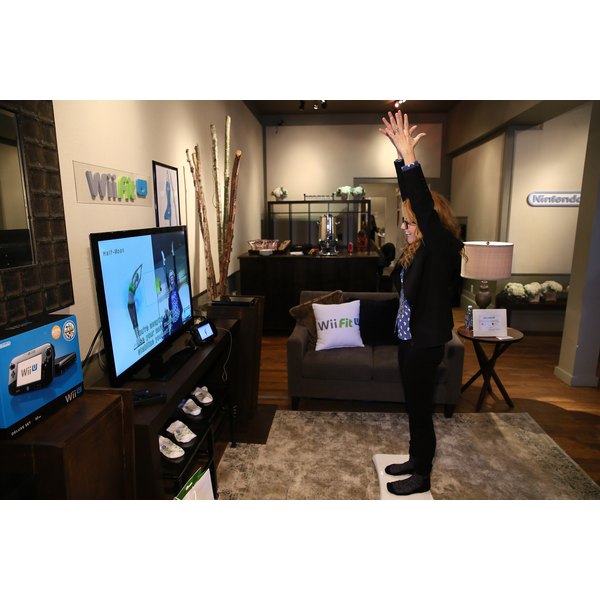 Since 2006, the Nintendo Wii, with its wireless motion-sensor technology, has been challenging gamers to use more than their thumbs. The system supports fitness accessories and games, including the Wii Fit balance board, heart rate monitor and resistance bands. These accessories may help the system contribute to a good exercise program, but you shouldn't count on it for all of your workouts.
Feel (and Estimate) the Burn
Moving your whole body to interact with a gaming console will burn more calories than sitting and simply working a joystick. One study out of the University of Wisconsin in 2008 found adults who play the five Wii Sports games (bowling, boxing, baseball, tennis and golf) can burn anywhere from about 4 to 10 calories per minute. Yoga and balance games that require light effort will burn about 2.5 calories per minute for a 150-pound person, while moderate effort aerobic games burn almost 4.5 calories per minute. If that person plays advanced levels of vigorous games like "Dance, Dance Revolution," she can burn about 8 calories per minute.
Vary Your Workout
The Wii can be part of an exercise program, but not the whole program. In 2012, after reviewing 41 active video game studies, Wei Ping, Michigan State University Associate Professor of Telecommunications, Information Studies and Media concluded that most active video games only offer light-effort exercise. What adults need, she says, is at least 30 minutes of moderate to vigorous exercise each day.
Rehab Assist
Universities, hospitals and even the government have employed the Wii game console in physical therapy programs. Some studies, such as a 2008 study by Hope College athletic staff and students, found the Wii rehabilitation program seemed easier to patients because they were enjoying the activities. "I think there's a bit of a risk for Wii to become the focus of therapy instead of being a piece of it," Dave Maiers, University of Wisconsin rehab program supervisor, said in a university release in 2009. "Patients enjoy Wii, so they tend to want to do that, and not as much of the other things they need to do."
Best Fitness Games
Games with personal trainer characters may be more effective due to the Kohler effect, the phenomenon of individuals performing better in groups. The Wii Fit U bundle, which includes the Fit board, Fit Meter and 70-activity game, includes a personal trainer and a social community to share achievements. If you're looking for games that burn the most calories, in addition to "Dance, Dance Revolution," you can try "Zumba Fitness," "The Biggest Loser Challenge" and "Just Dance."