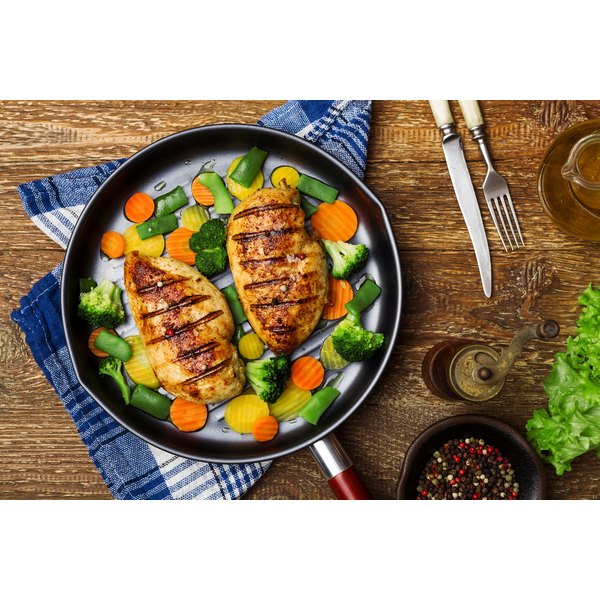 While it has been shown that low-carb diets can help you lose weight, one of the major concerns is that the diet doesn't restrict intake of high-fat meats like bacon and porterhouse steak. These meats are high in saturated fat, which is linked to heart disease and stroke. However, you can still lose weight on a low-carb diet and maybe improve your cholesterol, using lean sources of protein and getting your fat from plant sources, according to a 2008 study published in the New England Journal of Medicine. If you're struggling to put together meals for a low-carb diet that emphasizes lean protein, consult a registered dietitian to help you develop a plan that suits your needs and taste buds.
Low-Carb, High-Protein Breakfast
Bacon might be out, but you can still have eggs for breakfast on your low-carb, lean-protein meal plan. To keep it really lean, use egg whites instead of the whole eggs. Make a six-egg white omelet stuffed with three chopped asparagus spears and five sliced cherry tomatoes for a breakfast with 22 grams of protein and 3 grams of carbs.
Although not carb-free like eggs, low-fat cottage cheese is a lean source of protein. It contains 14 grams of protein, 4 grams of carbs and 1 gram of fat per 1/2-cup serving. Pair it with 1/2 cup of sliced cucumbers and 1/2 cup of sliced red peppers for a savory breakfast. The veggies add another 5 grams of carbs to the cottage cheese breakfast meal.
Ham is also a lean protein and makes a good sandwich filler. Cook two egg whites in a nonstick pan over medium heat in two round cookie cutters to make "bread." Place 2 ounces of ham on one "slice," top with one-quarter of an avocado and finish off with your second "slice." This meal has 20 grams of protein and 1 gram of carbs.
Keep It Lean and Low at Lunch
There is no shortage of low-carb, high-lean-protein options for lunch on your meal plan. You can't go wrong with 4 ounces of sliced, grilled chicken breast on top of 2 cups of lettuce with 1/2 cup of sliced cucumbers and 2 tablespoons of red onions with 2 tablespoons of ranch dressing. Add seven chopped walnuts for extra protein and a little healthy fat. This lunch meal has 41 grams of protein and 10 grams of carbs. Saute 4 ounces of shrimp with 1 cup of zoodles -- zucchini cut into spaghetti-like noodles -- garlic, olive oil and soy sauce for a lunch containing 28 grams of protein and 3 grams of carbs. Grill a 4-ounce 93-percent lean beef patty, wrap it in a lettuce leaf with sliced tomato and serve with 1/2 cup of broccoli and 1/2 cup of cauliflower sauteed in olive oil. This lunch has 28 grams of protein and 4 grams of carbs.
Dinner Done Right
In addition to very lean ground meat, sirloin, top round, pork loin and pork chops also make lean red meat options for a low-carb, lean-protein meal plan. You might enjoy 4 ounces of broiled, boneless pork loin with 1 cup of steamed red cabbage and 2 tablespoons of applesauce for 21 grams of protein and 9 grams of carbs. Although not one of the leanest protein options, fatty fish such as salmon and tuna are rich in omega-3 fats, which are good for your heart and mind and so are worth the extra fat. A 4-ounce portion of grilled tuna steak pairs nicely with 1 cup of roasted Brussels sprouts. This heart-healthy, low-carb, high-protein meal has 29 grams of protein and 7 grams of carbs. For 34 grams of protein and 5 grams of carbs, grill up 4 ounces of prime sirloin steak and serve with 1 cup of turnip fries seasoned with olive oil and paprika.
Snacks Low in Carbs and High in Protein
No meal plan is complete without snacks. Some lean-protein options for your low-carb meal plan include hard-boiled eggs, low-fat string cheese, rolled carb-free deli turkey, beef jerky or canned tuna. If you like to have some carbohydrates with your protein, try peanut butter with celery, a handful of almonds, a container of nonfat Greek yogurt, 1/2 cup of low-fat cottage cheese or mixed greens topped with sliced hard-cooked egg and Caesar dressing. Each of these mixed carb and protein snacks has 10 grams of carbs or less.