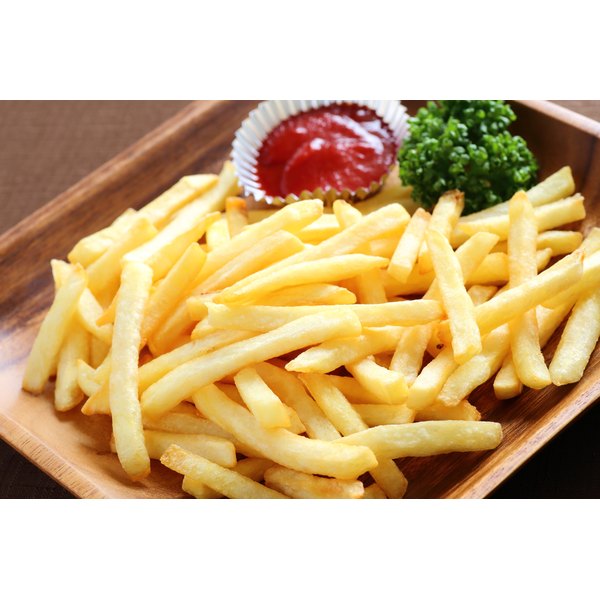 Blood glucose levels are one of the most significant indicators of how well a person's diabetes is controlled. In healthy individuals, recurring high spikes of blood glucose levels can eventually lead to insulin resistance, a characteristic of Type 2 diabetes. To prevent or manage the disease, it is important to maintain steady blood glucose levels and avoid starchy or sugary foods that cause those levels to rise drastically.
White Bread and White Rice
White bread is an example of a refined grain, a class of grain-based foods that have had the bran and germ removed. Processed grains have a higher glycemic index than their whole-food counterparts, meaning they have a greater effect on blood sugar since they contain less slow-digesting fiber and more fast-digesting simple carbohydrates. According to Harvard Health Publications, white bread has a glycemic index of 73 on a scale of 100, where 100 is the blood sugar impact of pure glucose. White rice and pasta are other examples of starchy refined grains you should avoid.
Starchy Potatoes and French Fries
Potatoes are a vegetable, making them seem like a potentially healthy choice, but potatoes are high in fast-digesting starch, making them poor nutritional choices for blood sugar. According to Harvard Health Publications, an average boiled white potato has a glycemic index of 82. Since french fries are made from potatoes, they are equally poor choices and should be avoided.
Sugary Instant Oatmeal
Oatmeal by itself is a healthy nutritional choice with a medium glycemic index and quality dietary fiber content. However, commercially available instant oatmeal packets often contain added sugar and sweeteners to make them taste more appealing. Since they are processed, the glycemic index is increased further. According to Harvard Health Publications, an average type of instant oatmeal has a glycemic index of 83.
Pastries and Sugary Breakfast Cereals
Almost all pastries, including donuts and pies, are high in sugar, making them impact blood sugar significantly. Similarly, most breakfast cereals are also high in added sugar. For example, while some fibrous breakfast cereals fit into a glucose-moderated diet, some popular brands of cereal have a glycemic index of up to 93.
Most Types of Candy
Candy's sweet taste is a result of its high sugar content, making it a food to avoid in order to maintain regular levels of blood glucose. For example, one average chocolate bar contains 24 grams of sugar and has a glycemic index of 68. However, it is not necessary to permanently cut all sweets out of your diet. Eating sweets occasionally in moderation is acceptable.