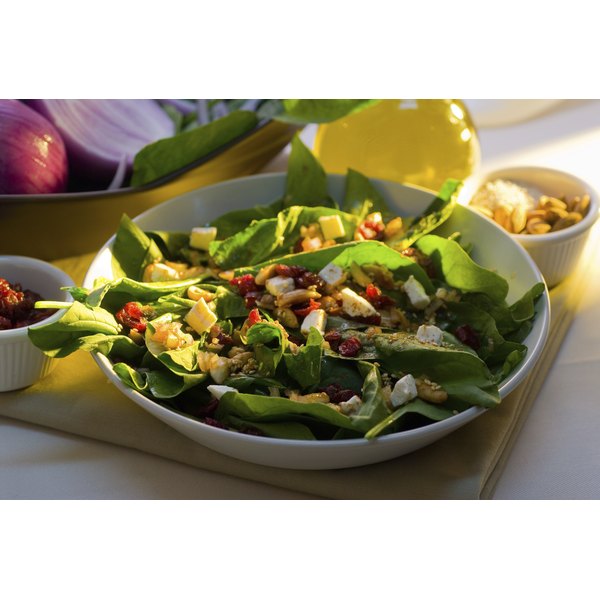 A heaping helping of spinach not only provides a healthy dose of vitamin A and C, folate, iron and calcium, but may also boost your immune system and contribute to healthy skin. The nutritional value of a spinach salad depends on which ingredients you add to it and what you dress it with. When you build your salad with fresh, healthy ingredients and go light on the dressing, a spinach salad becomes a powerhouse of nutrients beneficial to your health and your waistline.
Tip
Spinach Salad has 158 Calories and 7.05 g of Protein per 100 gram serving according to the nutrition facts provided by the USDA Food Composition Database.
Cranberry Spinach Salad
When you pair spinach and fruit, you enhance the flavor and the nutrition of your salad. Dress up a spinach salad with 1 tablespoon of dried cranberries, 2 tablespoons of chopped pecans and 1 ounce of Gorgonzola cheese; drizzle lightly with balsamic vinaigrette. The cranberries add vitamin C and potassium, while the pecans and cheese bump up the protein and calcium content. Opt for low-fat blue cheese to keep saturated fat to a minimum; the majority of the fat in this dish comes from unsaturated sources. This salad provides roughly 295 calories, 6 grams protein and 25 grams of fat.
Wilted Spinach Salad
The American Diabetes Association provides a recipe that combines wilted spinach with red onion, sea salt, pepper, a minute amount of sugar, one slice of bacon, red wine vinegar and avocado oil. Since the recipe serves seven, the bacon and sugar content per portion is very low. One cup provides 50 calories, 4.5 grams of fat and 1 gram protein, and is cholesterol-free.
Build Your Own
Top spinach with a variety of vegetables to add nutrients without piling on the calories. Add bell pepper strips, chopped broccoli, julienned carrots, mushrooms and diced tomato to bump up the vitamin C, vitamin A, fiber and potassium content. Add 1 cup of a variety of raw vegetables to 1 cup of spinach leaves for a salad that comes in under 100 calories. Top with 2 tablespoons of raspberry vinaigrette for an additional 80 calories.
Considerations
One cup of spinach provides only 7 calories, but contains a bounty of nutrients. You get .86 grams of protein, .7 grans fiber, .81 milligrams of iron, 167 milligrams potassium, 30 milligrams calcium, 8.4 milligrams vitamin C, 58 micrograms folate and 2,813 international units vitamin A per cup. Limit dressings and cheese toppings that are high in saturated or trans fat, opting for vinegar and oil-based dressings with hints of nut or fruit to complement the spinach flavor.