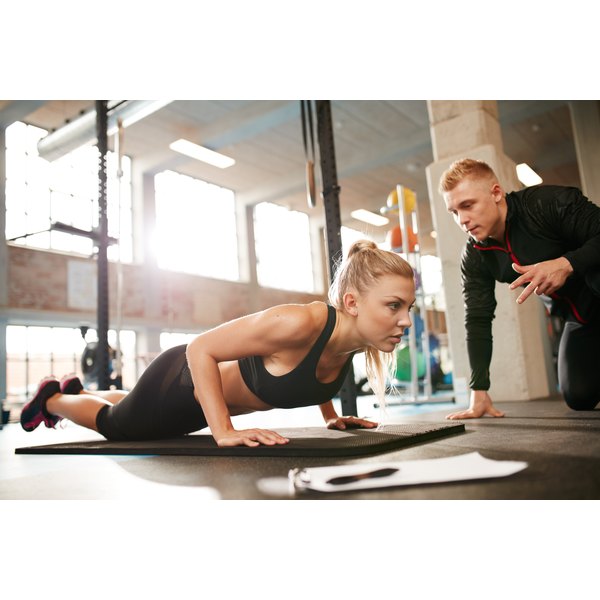 A personal trainer is a dynamic professional who shares their own passion and enthusiasm for fitness and wellness with their clients in an effort to help them meet a variety of goals, including weight loss, strength, and overall well-being. These individuals are certified through a number of organizations, including ACE and ACSM, and may even have college degrees in areas like exercise science or kinesiology.
The mark of a quality trainer depends on their ability to accurately determine the needs, limitations and motivations of each client and then design an exercise prescription to match.
Trainers work in a spectrum of capacities across the industry:
All age ranges, from children through geriatrics
All body types and fitness experience
In hospitals and clinics, corporate wellness programs, gyms and fitness centers, online, and in home
In private sessions, partners or small groups, or large bootcamps and classes
Without hesitation, a qualified personal trainer should be able to answer these questions or practice these skills.
Health Screening and Assessment
Every new personal training client should be given a health screening questionnaire (or HSQ). It's an important tool for understanding client risk factors and determining if a medical clearance is appropriate. Guidance for HSQs, updated in August 2017, can be found here at the American College of Sports Medicine (ACSM). Personal trainers understand how important it is that a client be cleared for exercise by a physician if a medical condition exists, as this prevents injury or complications.
Following clearance, assessments should be conducted to determine the client's current fitness level. Insight about assessments for cardiovascular endurance, muscle strength and endurance, flexibility and body composition can be obtained from the ACSM's resource materials.
Goal-Oriented Programming
An important part of exercise programming is establishing specific goals for each client. Goals should develop out of a client's current physical condition (via the assessment) and what they've expressed as a goal. To define goals, you'll need to understand if your client is seeking health benefits, improved fitness or athletic performance. And you'll need to determine if your client requires special accommodations because of age or physical limitations. Once goals are defined and agreed upon, you can develop programming that includes the frequency, intensity, duration and mode of exercise for each individual.
Programming for Progression
As a personal trainer, it's your job to continually progress your client toward their goals. Using the assessment as a baseline, and routine check-ins, you can monitor progress and develop a dynamic training plan that holds your client's interest as much as it pushes the body to adapt. Cardiovascular exercise, resistance training and flexibility exercises should all be part of the plan. You can also work with your client's nutritional habits to ensure their nutrition plan aligns to support the fitness goals.
Communication is Key
As a trainer, you will develop close relationships with your clients. And as with any relationship, you will need to have strong communication and teaching skills. The trainer-client relationship is founded on trust and integrity, as you play the important roles of motivator, cheerleader, counselor, enforcer and friend. Your clients rely on you to provide clear, precise instructions on proper body mechanics and injury prevention. Be sure to speak clearly, give detailed explanations when describing form and offer plenty of guidance and feedback throughout a workout.
Professional Responsibility
A trainer is also responsible for safety, injury prevention and emergency care administration. Professionally certified trainers are required to demonstrate competence through continued education and training and remain up-to-date on current research and development. Trainers must respect professional boundary policies, including your scope of practice in nutrition and ethical treatment of all individuals in not only exercise programming but in business administration, billing, cancellation policies and conflict resolution.