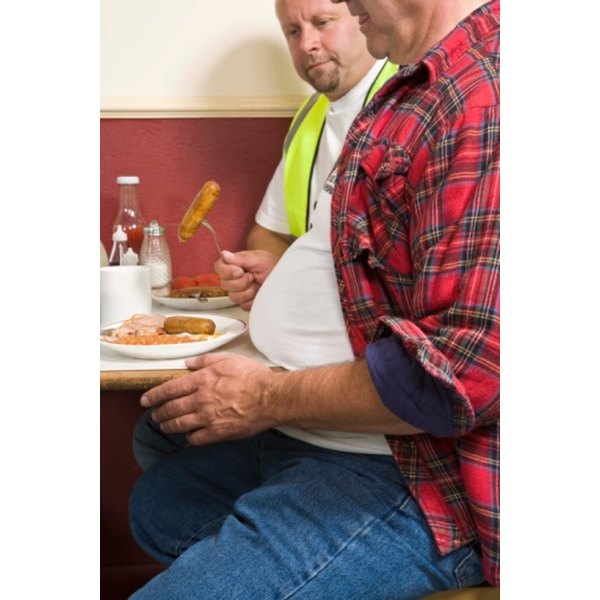 Teenage obesity increased substantially in the last decade of the 20th century and the first decade of the 21st century to something approaching epidemic proportions. The future health consequences from the rise in teen obesity is dire. Teens who are obese often become obese adults, putting them at a higher risk of heart disease, high blood pressure, diabetes and some types of cancer. Sixty percent of overweight and obese kids between the ages of 5 to 15 have at least one risk factor for heart disease, such as high cholesterol, high blood pressure and abnormal glucose tolerance. The psychological costs of teen obesity also are profound. Obesity impairs self-esteem and sometimes leads to stress and clinical depression.
Increase
In the last 30 years, from 1980 to 2010, the obesity rate among children and teens tripled, according to Let's Move, the campaign against child and teen obesity led by the White House, the Department of Health and Human Services, the Department of Agriculture and the Department of Education. An obese child or teenager is one who weighs at least 20 percent more than their ideal body weight. One out of every three children in America is overweight or obese. Forty percent of kids and teens in Afro-American and Hispanic communities are overweight or obese. If the trend continues, one out of every three children born in 2000 or later will suffer from type 2 diabetes, a disease largely caused by obesity.
Obesity Causes
A lack of exercise and unhealthful diets are the prime causes of obesity. According to Let's Move, kids and teens from the ages of 8 to 18 spend 7-1/2 hours per day using computers, watching TV, playing video games and using other electronic media. Teens in high school get just 33 percent of the recommended level of physical fitness. Portion sizes of food have increased by two to five times from 1980 to 2010. Kids and teens ate an average of one snack in 1980. In 2010, they ate an average of three snacks. Plus, the consumption of sugar and fast food by teens is at an all-time high.
Teens to Adults
According to the American Academy of Child & Adolescent Psychiatry, obese kids between the ages of 10 and 13 have an 80 percent chance of becoming an obese adult. If one parent is obese, their child or teenager has a 50 percent chance of being obese, and the chances are even higher if both parents are obese. Fewer than 1 percent of obesity in kids and teens is caused by inherent physical problems. The other 99 percent of obesity is caused by poor eating habits, lack of exercise, a family history of obesity, and other factors such as low self-esteem and depression or other emotional problems.
Health Effects
Obesity weakens the health of teens. It can shorten life expectancy. It causes stress -- overweight adolescents often are subjected to ridicule and bullying. Body image is important to teens, and obesity can lead to teen depression and other forms of mental illness. Some studies indicate that obese kids and teens do not learn as well as other kids. Parents and their obese children can take steps to change the status quo. For example, changing the way the whole family eats may reduce the incidence of teen obesity because a strong correlation exists between the amount of whole grains consumed over a four-year period and healthier weight.