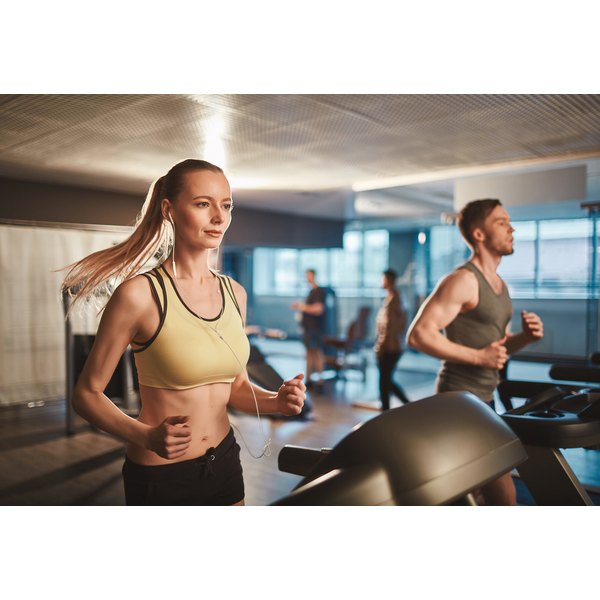 Controlling your weight is an effective way to improve your health and reduce your risk of chronic disease. By setting a weight-loss goal of 20 pounds, you give yourself a clear focus and means by which to gauge your success. Cardio workouts will provide the highest calorie burn, making them the best type of exercise program to follow. Your weight loss goal will require a commitment to regular exercise.
The Short and Long of It
Harnessing your motivation will help you reach your goal. In order to support your success, you should begin by setting milestones which are realistic for you to reach. Aim for an attainable weight loss goal of 1 to 2 pounds per week, which is doable without requiring a lot of self-sacrifice. While losing 20 pounds is admirable, you probably don't want to be in a position where you must set this goal again. Your goal, therefore, should be long-term weight loss.
From Cycling to Skating
The best workout will provide a high calorie burn by engaging more muscles. The more muscle you work, the more calories you will burn in a given period of time. Intense activity accomplishes this purpose. Your workout should include an activity you enjoy. Running at 6 mph, for example, will burn 704 calories an hour for a 155-pound person, according to NutriStrategy. Vigorous cycling on an exercise bike has a similar calorie burn at 739 calories per hour. In-line skating burns 844 calories per hour.
Set Your Schedule
You will need to commit to working out five to six days a week once you have chosen your exercise, recommends the American Council on Exercise. Aim for 45-minute sessions and gradually work your way up to 60 minutes. A 2010 study by Brigham and Women's Hospital found that women were most successful at long-term weight loss when they exercised 60 minutes a day most days of the week. Bear in mind that you can split your activity throughout your day if a 60-minute block of time is not convenient.
Staying on Track
With this exercise plan, you should approach your goal at about 10 to 20 weeks. There are a few things you can do to keep you on track. Accountability, for example, is a powerful motivator. A 2010 study by the Kaiser Permanente, Center for Health Research in Oregon found that using interactive websites helped participants maintain long-term weight loss. Another way to stick with your 20-pound weight loss goal is to weigh in daily. A 2005 study by the University of Minnesota concluded that daily weigh-ins helped participants avoid weight gain. By tracking your progress, you can help ensure that you meet your fitness goal.