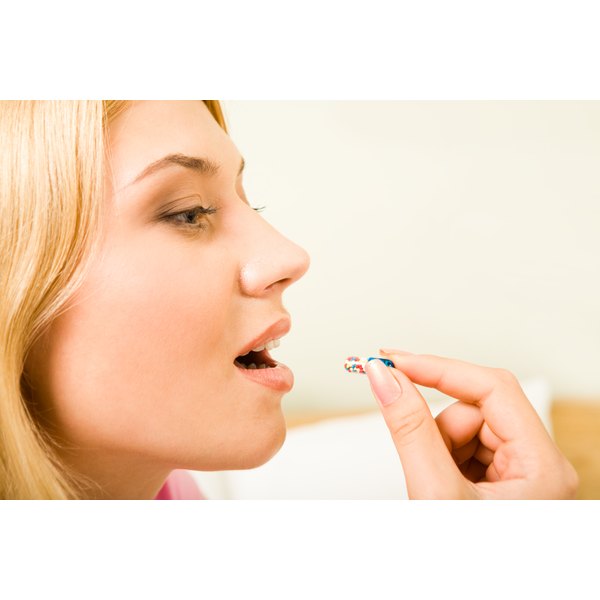 Chromium is a mineral that is required for numerous functions in the body, including glucose and fat metabolism. It also helps insulin to work efficiently within the body. One form of chromium, chromium picolinate, performs the same functions as chromium yet is more easily absorbed by the body. Research indicates that chromium picolinate has numerous benefits but may also pose some risks.
Reduce Diabetic Nephropathy
Researchers from the Medical College of Georgia studied the effects of chromium picolinate on diabetic nephropathy, or kidney disease as a result of diabetes. Diabetic mice were on a diet with or without chromium picolinate supplementation for six months. At the end of the study, which was presented at the 2010 American Physiological Society Conference, scientists observed that the diabetic mice with chromium picolinate had lower levels of protein in the urine, an indicator of kidney disease, compared with the mice without chromium picolinate.
Stave Hunger
Scientists from Pennington Biomedical Research Center at Louisiana State University and the University of Florida investigated the impact of chromium picolinate on overweight women. Participants were randomly assigned to receive 1,000 mcg of chromium picolinate or a placebo for eight weeks. The report, which was published in the October 2008 issue of the journal "Diabetes Technology & Therapeutics," revealed that the chromium picolinate group lowered their food intake, hunger levels and craving for fat, compared with the group without chromium picolinate.
Improve Mental Function
In research reported in the May 2010 issue of the journal "Nutritional Neuroscience," researchers from the University of Cincinnati College of Medicine explored the effects of chromium picolinate on mental function in the elderly. They found that subjects consuming 1,000 mcg of chromium picolinate per day for 12 weeks experienced improvements in learning and memory tasks compared with those receiving a placebo.
Considerations
Although several benefits are associated with chromium picolinate, researchers from the University of Alabama in Tuscaloosa stated that chromium picolinate might increase the risk of cancer. Chromium picolinate supplementation might cause DNA damage, which in turn can cause mutations that lead to cancer. Scientists presented their findings at the March 1999 American Chemical Society meeting.