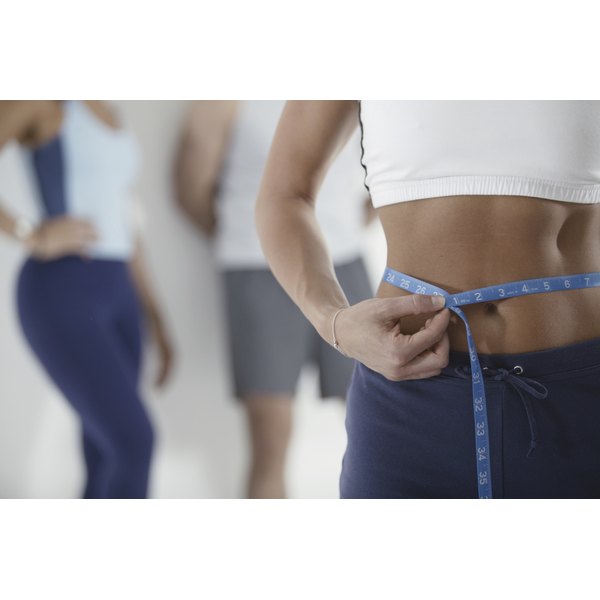 Abdominal fat can raise your risk of high blood pressure, high cholesterol, diabetes, stroke and certain cancers. Abdominal fat contains active cells that produce hormones that can affect your overall health. Although exercises that target your abdomen can help tone it and give it a trimmer appearance, losing the weight usually requires permanent lifestyle changes.
Genetics
You can inherit a tendency towards carrying weight in your mid-section from your family members. If you tend to gain weight in your middle, the extra pounds will often go straight to your belly instead of distributing themselves in other places. Keep your overall weight under control to minimize this extra abdominal fat.
Stress and Sleep
High levels of stress and inadequate amounts of sleep can create hormonal levels that increase your abdominal fat, according to the American Council on Exercise. The March 2007 "Fitness" magazine article "How To Beat Belly Flab" cautions that a lack of sleep can interfere with the appetite-regulating hormones leptin and ghrelin, which can make you more prone to overindulge in salty and sweet snacks. It can also increase the levels of the stress hormone cortisol -- a hormone linked to higher levels of abdominal fat.
Aim to get at least seven hours of sleep every night to keep your weight under control. Use relaxation techniques, like yoga or meditation, to help you manage stress. Talking to a friend or behavioral professional can also help you cope with stressful situations.
Age
Due to a slowing metabolism, more fat accumulates in your body as you grow older. Adults who are not physically active also lose muscle as they age. In women, the hormonal changes of menopause can cause the excess fat to shift from the arms, hips and legs and into the abdomen. Men tend to gain even more weight around their middles than women, mostly due to sedentary lifestyles and unhealthy food choices.
Prevention/Solution
Change your diet so that you eat more fruits, vegetables, whole grains, lean dairy and proteins, and less sugary or fatty foods. Aim to get at least 150 minutes each week of moderate-intensity physical activity, like brisk walking or swimming. Include regular strength training in your workouts to preserve muscle mass while you lose weight. Adjust your diet and exercise patterns so that you eat less than you can burn off through exercise and physical activity.