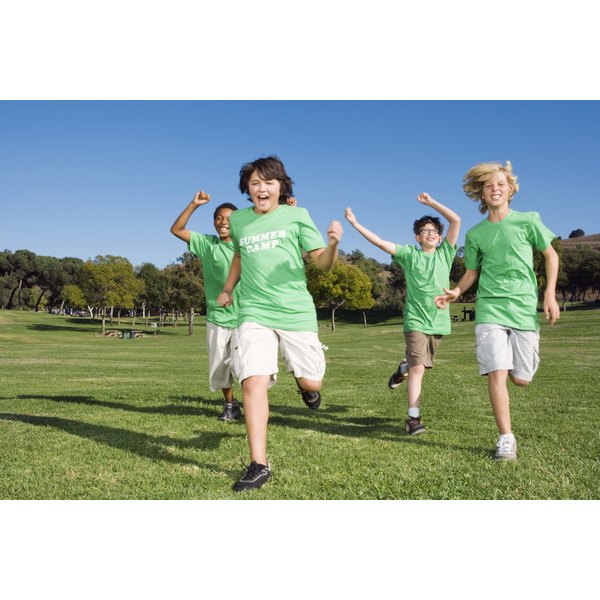 Walking, running and playing on the playground are efficient ways to get kids moving -- and it helps them meet their daily physical activity goal. The number of children that actually meet this goal are very few. According to data from the Centers for Disease Control and Prevention, roughly 12.5 million children who are between the ages of two and 19 are obese.
Climbing Up The Charts
Childhood obesity has become a major concern in the United States. The American Heart Association states that for 2012, one out of every three youth ages two to 19 years of age were overweight and obese, while one out every six were considered obese. The current classification for an individual to be overweight is having a Body Mass Index at or above the 85th percentile, while obesity requires an individual to be at or above the 95th percentile.
Goals and Activities
The Centers for Disease Control and Prevention recommend children and youth should practice at least 60 minutes of daily physical activity. The CDC also recommends children engage in muscle- and bone-strengthening exercises at least three times a week during their 60 minutes. Benefits of adding strengthening exercises include an increase in muscle strength and power, improvements in blood lipid profile and improvement in body composition. Examples of muscle and bone strengthening exercises include pushups, crunches, squats and calf raises.
The Real Number
According to a 2009 study by Schulz, Anner, and Hills, only 42 percent of children six to 11 years of age met the daily recommendation for 60 minutes a day of physical activity. That number drops drastically to only 8 percent of youth ages 12 to 19. The authors of the study hypothesize the reason for the sharp decline may be due to the lack of physical education in school for children in this age group. Many children between the ages of 12 to 19 are in middle school and high school.
Increasing Physical Activity
There are many ways for children to reach 60 minutes or more of daily physical activity. If you're looking for something to do inside, there are a variety of workout videos specifically tailored for children, including videos that incorporate dancing or martial arts. Workout video games that require the players to jump, run in place or dance in order to play the game are also available.