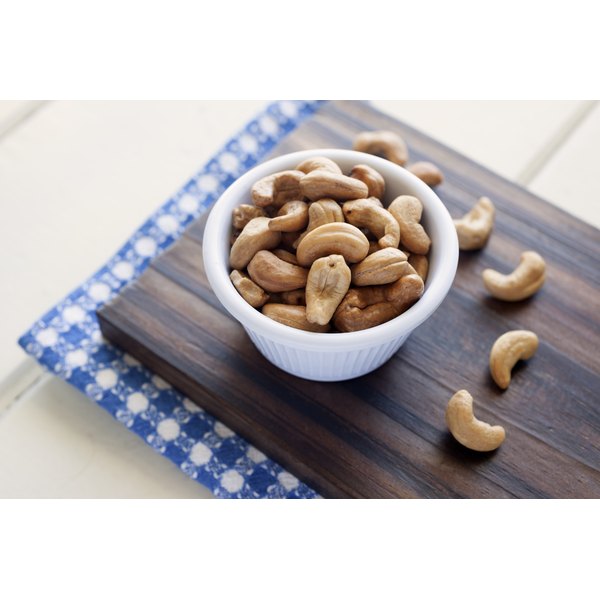 When it comes to on-the-go snacks, cashews are nutritious and convenient. Packed with protein, cashews satisfy hunger and give you energy. They provide other nutrients like phosphorus and magnesium, as well. As a bonus, these tree nuts help lower the risk of heart disease, according to the "British Journal of Nutrition."
Source of Plant Protein
Your metabolism needs protein to produce amino acids for building muscle and body tissue. You can get 5 grams of the recommended daily intake of 46 grams of protein for women and 56 grams for men in an ounce of cashews. An ounce equals about 18 cashews. Sources of dietary protein come from both plants and animals. Swapping out protein from red meat for healthy proteins may help extend your life, according to Dr. Walter Willett of the Harvard School of Public Health. Eating cashews for a snack and at mealtime adds healthy plant protein to your diet.
Carbohydrates and Minerals
An ounce of cashews has 157 calories, a gram of fiber and almost 9 grams of carbohydrates. You can get an energy boost as the carbohydrates in cashews convert into glucose. Magnesium helps regulate your blood pressure, clots the blood and strengthens bones. An ounce of cashews provides you with 83 milligrams of recommended daily intake of 310 milligrams of magnesium. Another nutrient in cashews is phosphorus, which provides energy and helps strengthen your teeth and skeletal system. A serving of cashews gives you 168 milligrams of the 700 milligrams recommended daily.
Heart-Healthy Fats
Although cashews are high in fat with a total of about 12 grams in an ounce, it is mostly unsaturated fat, which is heart-healthy and aids in lowering cholesterol. Cashews contain zero cholesterol. The American Heart Association recommends unsalted nuts as a healthy source of monounsaturated and polyunsaturated fats.
Serving Ideas
Add cashews to salads or sprinkle them on top of yogurt, oatmeal or cold cereal for more nutrition in your meals. You can also add cashews to pancake or muffin batter. Use a food processor or rolling pin to grind up cashews and use them as a coating for baked fish or poultry. You can also roll a cheese ball in ground cashews for added flavor and nutrition.