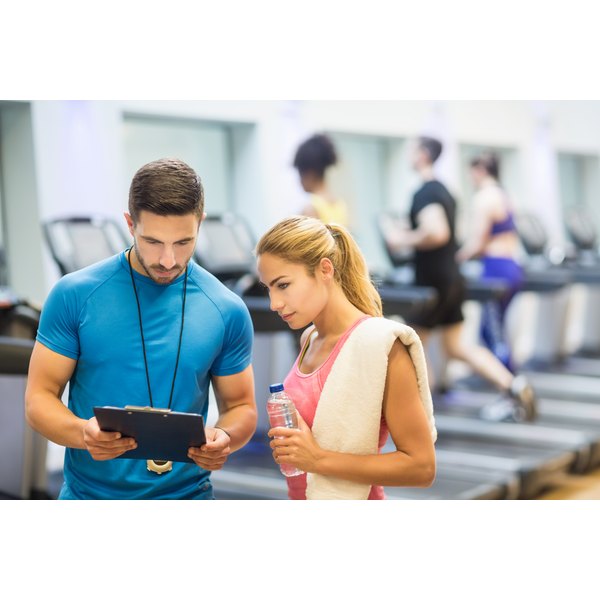 Personal trainers frequently require clients to obtain medical clearance and sign informed consent waivers and releases from liability. These forms prevent you from holding your trainer legally responsible for actions taken that are outside of her reasonable control or responsibility.
The forms also establish an educational basis for your relationship and inform you about assessments and potential risks associated with exercise testing and programming as well as your rights as a client.
Types of Waivers
No two training businesses will require exactly the same documents. The information collected will be similar, yet trainers draft their forms to meet their individual business and service needs. Basic forms you could be required to complete include: waiver of liability, informed consent, health history, medical history and medical clearance.
Two or more of these could be combined in one form rather than presented by itself. A medical waiver, specifically, would be a disclosure of your current health conditions and a release of liability for the trainer and the training facility.
Purpose of the Waiver
A medical waiver ensures that you have communicated openly with your trainer all information that will affect your training program design. It bridges the gap between the medical community and your personal trainer.
Based on the information you present, the trainer may ask you to submit a medical clearance form to your doctor. This is to ensure that you are able to safely engage in an exercise program. Your doctor or physical therapist may also communicate any pertinent information about exercise guidelines or limitations to the trainer before you begin.
For Your Health and Safety
Any quality trainer who has the safety and health of his clients in mind will take the proper precautions before beginning training. Training programs can be intense and exacerbate even conditions which you might not think would be a problem.
Medical release also covers your trainer should you become injured due to your health condition, and not because of any error in programming by the trainer. Although you are eager to begin training right away, it pays to protect your health and start your relationship with your trainer off on the right foot.