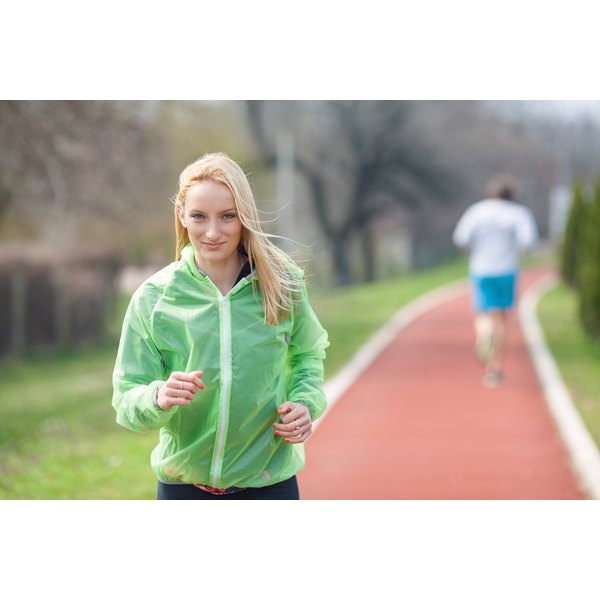 Losing weight is simple as a concept. If you burn more calories through exercise than you take in by eating, your body takes the extra energy from your fat. You burn fat and lose weight. Exercise is one of the two natural methods for establishing this caloric deficit. Running wind sprints is one exercise option that can contribute to your weight-loss efforts.
Wind Sprint Basics
Running sprints means running a short distance as fast as you can from start to finish. Traditional sprint lengths include 40 meters, 100 meters and 200 meters. Although the 400- and 800-meter runs are also categorized as sprints for competition, neither truly involves running at full speed the entire time. It's also perfectly reasonable to sprint for nonstandard distances -- such as the distance between two trees at your local park.
Direct Energy Burn
Although running 100 yards at a dead sprint burns a lot of calories while you're running, you'll only sprint for a few seconds. This isn't enough time to establish the long-term calorie consumption you need for fat loss. Your body accesses blood glucose and stored ATP to access the immediate energy need. This process is similar to your fight or flight response. It is not as effective for weight loss as a long-term, steady run.
Afterburn
The weight loss benefits of wind sprints derive from your body's natural reaction to the energy consumption of a sprint. Called excessive post exercise consumption -- EPOC -- your body must burn a high number of calories after it accesses its glucose and ATP stores. It does this to return your body to a normal physiological state. After wind sprints, your body may burn calories at an excessive rate for hours as it repairs muscle, restores hormone levels and replenishes nutrients it burned during your sprint session.
Interval Training
Fitness writer Gerard Taylor recommends interval training as a way to get the benefits of sprinting combined with the long, slow burn of distance running. In an interval workout, you alternate between periods of wind sprints and periods of slow to moderate pace. On a standard running track, for example, you might alternate between 200-meter sprints and 400-meter jogs until you've run a total of two miles.