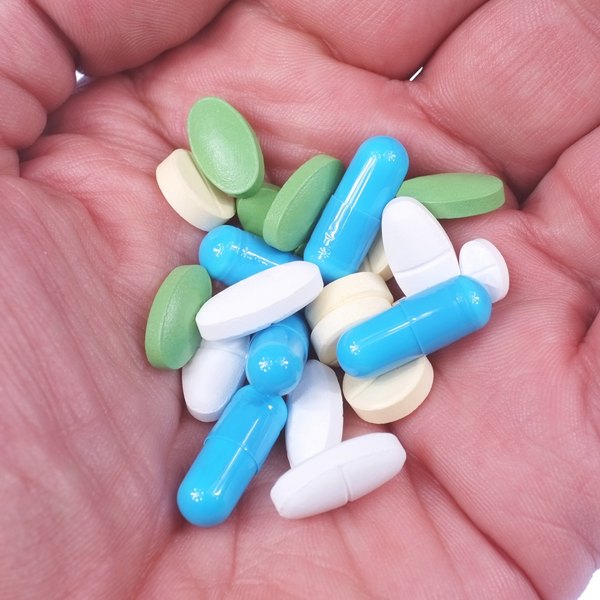 Carefully researching brand information when selecting a herb or vitamin product helps ensure quality and effectiveness. Select a product from a well-known, reputable company with a high sales volume to ensure that the supplements are frequently restocked and contain maximum potency. Up to 30 percent of supplements have a quality problem, and products sold by retail chains tend to be more trustworthy than drugstore products, according to "The New York Times."
Definition
The FDA, which regulates $1 trillion worth of products a year, defines dietary supplements using guidelines outlined in the Dietary Supplement Health and Education Act that passed in 1994. The FDA classifies herbs and vitamin products as dietary supplements if the products meet certain requirements, such as proper labeling on the front panel. The products must also be intended as a pill, capsule, tablet or liquid supplement, and must contain one or more dietary ingredients such as vitamins, minerals, herbs and amino acids.
Identification
When researching herb supplements and vitamin products online, the FDA recommends only trusting sites run by universities, qualified health professionals or reputable health associations. Look to non-profit or government sites with free, scientific information on supplements, rather than commercial advertisement-laden sites for information. Avoid supplement companies with exaggerated or unrealistic product claims, and don't assume that herb and vitamin products labeled as natural means they are necessarily healthy or safe, advises the FDA.
Quality
The FDA enforces Good Manufacturing Practices regulations, or GMP, as a quality-control method for herb and vitamin supplement manufacturing. GMP regulations enforce the safety, purity and effectiveness of dietary supplements and help manufacturers minimize supplement contamination and errors. In addition to selecting a brand that adheres to GMP regulations, consider choosing a brand that also contains a seal of approval from an independent quality testing organization. Quality testing organizations that ensure supplements are properly manufactured and contaminant-free include U.S. Pharmacopeia, NSF International and the Natural Products Association, according to the National Institutes of Health Office of Dietary Supplements.
Research
Carefully research product labels and company information before using any herb or vitamin supplement. Non-profit databases, such as the U.S. National Library of Medicine's Dietary Supplement Labels Database, help consumers stay informed about the health information, labeling and research findings for thousands of dietary supplements. Use the Dietary Supplement Labels Database to learn about the ingredients, medical research studies, product claims and manufacturer information for specific brands before making your selection.
Considerations
Herbal supplements don't require FDA approval before manufacturers put them on the market, and they have more lenient regulations than medications. Some vitamin and herbal supplements can have negative side effect or drug interactions, so check with your health care professional before beginning any new supplement. Exercise caution when selecting brands manufactured outside the U.S. due to the history of toxicity in non-regulated countries, recommends the Mayo Clinic.