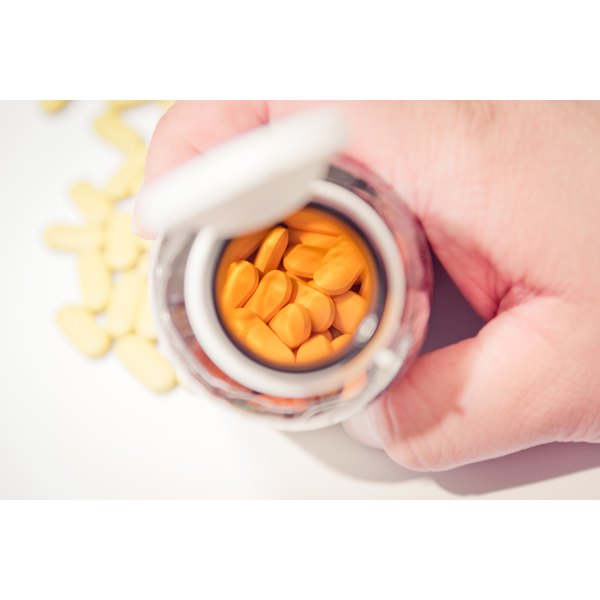 Although fat loss supplements cannot replace a solid dietary and exercise program, they can help enhance weight loss by boosting the metabolism and increasing fat oxidation, or fat burning. Research suggests that certain supplements are scientifically backed as effective for fat loss. Consult your health care provider before taking any supplements.
CLA
Conjugated linoleic acid, or CLA, is an unsaturated fatty acid that might boost fat loss, according to a study conducted by scientists from the University of Wisconsin School of Medicine and Public Health. Researchers performed a review of the clinical studies regarding the relationship between CLA consumption and fat loss. At the end of the review, which was published in the May 2007 issue of the "American Journal of Clinical Nutrition," scientists concluded that 3.2 g a day of CLA for six months to two years is effective for helping to reduce body fat.
Green Tea Extract
Researchers from Maastricht University in the Netherlands reviewed the literature regarding the impact of green tea on weight loss and weight maintenance. In the report, which was published in the September 2009 issue of the "International Journal of Obesity," scientists concluded that green tea catechins significantly decreased body weight and helped to maintain body weight after a period of weight loss.
Fish Oil
Researchers from Kao Corporation in Japan investigated the effects of omega-3 fatty acids on body weight and fat metabolism in obese mice. In the study, mice were fed a high fat diet, with and without omega-3 rich fish oil, for five months. Scientists reported in the December 2007 issue of the "Journal of Nutrition," that mice fed a high fat diet with fish oil reduced their body weight and increased the activity of fat burning enzymes compared to mice without fish oil.
Capsaicin
Scientists from the University of Aarhus in Denmark investigated the effects of capsaicin, the main compound in chili peppers responsible for its fiery heat, on heat production in the body. The report, which was published in the August 2008 issue of the "Journal of Biological Chemistry," revealed that capsaicin increases the process of thermogenesis, or the conversion of energy into heat. This, in turn, elevates calorie burning and enhances fat loss.