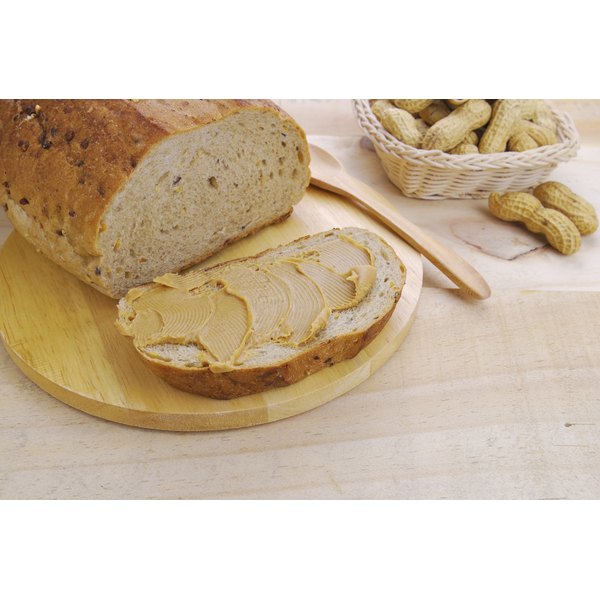 Protein is an organic compound found in many foods including lean meats and dairy items. Your body needs protein to to help your body repair and create new cells. Protein is an essential building block for your body and is found in your skin cells, muscles and organs. Eating protein as part of a healthy breakfast can help give you energy throughout the day and keep you from getting hungry later on. Eggs are a quick and easy source of protein, but if you prefer not to eat eggs, you can still enjoy a high-protein breakfast.
Lean Meats
Lean meats pack a high-protein punch. Enjoy sausages or bacon made from turkey in the mornings to fuel your body. You can find tasty turkey sausages in the freezer case at most grocery stores. Or try a breakfast sandwich made with sliced roast turkey and veggies wrapped in a tortilla or piece of lettuce. You'll get a whopping 19 g protein from eating 3-1/2 oz. of white meat turkey.
Low-Fat Dairy
Add low-fat dairy items to your morning routine to ensure you start off the day with plenty of protein. Drink a glass of low-fat milk along with your breakfast for an easy protein boost. Enjoy a scoop of cottage cheese alongside some fruit for a high-protein, egg-free breakfast. Make a breakfast sandwich on whole wheat bread using sliced low-fat cheese to up your protein intake as you begin your day. For each ounce of cheese you eat, you add about 7 g protein to your diet. Drinking 8 oz. milk will net you 8 g protein.
Nut Butters
Peanut butter and spreads made from other nuts make a great option for an egg-free breakfast that provides your body a boost of protein. You can find chunky or smooth spreads made from a variety of nuts, including peanuts, almonds and cashews, at any grocery store. Choose your favorite nut butter to spread on a piece of whole wheat toast or a bagel. You'll get about 8 g protein from eating 2 tbsp. peanut butter.
Fish
While it may seem strange to eat fish for breakfast, you can give your body a super jolt of protein by putting a little fish on your morning menu. Enjoy a tuna melt made with low-fat cheese and a whole wheat English muffin for a filling breakfast. Or use some leftover cooked fish to make a hearty breakfast taco. Eating 3 oz. tuna will get you 22 g protein.